Join Rabbi Jacob Staub on Monday, May 15 at 2 p.m. EDT for our next Evolve Web Conversation with Rabbi David Teutsch, Ph.D.. They will discuss "A Leap Towards Justice in Israel/Palestine: Considering Confederation."
The controversy over the judiciary in Israel has its roots in the gradual annexation of the West Bank and resulting injustices toward Palestinians. With a two-state solution looking ever less viable, it is time to consider the alternative of confederation. After an up-to-date look at the current situation, we will turn to outlining a potential path forward.
Contributors of $250 or more are invited to join the live session. 
This is the first of five web conversations in our "Uncover the Light" shiurim series.  A donation of $250 or more will grant the contributor access to the entire Shiurim series web conversations, both during the live recorded session and the recording for later viewing. If you have donated at this level or higher and have not received the zoom link, please contact Rachel Forth at RForth@ReconstructingJudaism.org.
Meet Rabbi David Teutsch, Ph.D.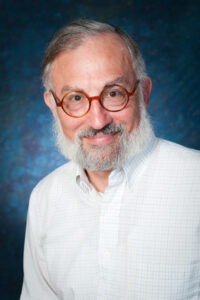 Rabbi David Teutsch, Ph.D., was the founding director of the Center for Jewish Ethics of RRC and is a widely known author and organizational consultant. His most recent book is the three-volume Guide to Jewish Practice; the work opens vistas of meaning that will inspire readers to shape their own approaches to each milestone of the Jewish calendar. In 2011, volume one of the series, A Guide to Jewish Practice: Everyday Living, won the Myra H. Kraft Memorial Award, the National Jewish Book Award for Contemporary Life and Practice.
About Evolve: Groundbreaking Jewish Conversations
Evolve: Groundbreaking Jewish Conversations is an initiative of Reconstructing Judaism. We seek to promote the ongoing evolution of the Jewish community by launching collective, communal conversations about the urgent issues of our day. To that end, Evolve brings multiple voices together to listen to one another's point of view and to interact respectfully. In an era when it has become ever more difficult to remain open to viewpoints that differ from our own, Evolve cultivates covenantal conversations even when we disagree. In this way, we hope to enhance the ongoing evolution of Jewish civilization. Learn more on our Evolve website.
Evolve does not endorse every viewpoint presented on its platform. Its goal is to cultivate groundbreaking, constructive, respectful conversations about urgent issues of concern. Evolve makes space for a wide range of viewpoints and seeks to support constructive debate while abiding by the values of tzelem Elohim (regarding and treating all people as created in the divine image), kavod (respect), redifat shalom (pursuing peace) and makhloket leshem shamayim (disagreements for the sake of heaven).