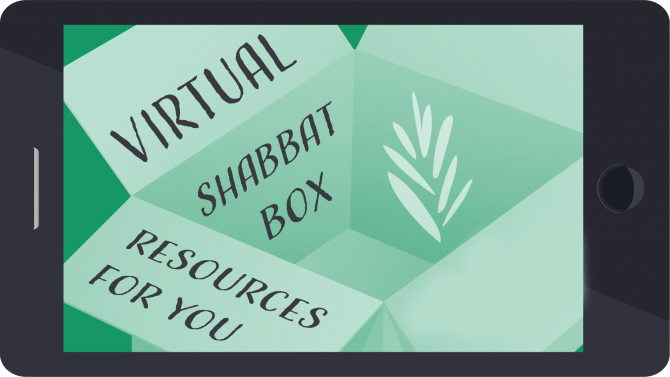 Your Virtual Shabbat Box holds many ways to celebrate the day. Choose what nurtures you: listen, watch or read.
This easy-to-follow cooking video and recipe for an Iraqi Seder staple will be sure to whet your appetite.
Rabbinical student Stephanie Breitsman shares her Reconstructionist journey and how she has found new meaning in the words of Torah by connecting to the physical scroll and becoming a sofer.
As we close the Megillah on Purim and look ahead to Passover, Rabbi Vivie Mayer sheds new light in comparing the festivals.
Rabbi Mira Wasserman shares a Talmudic story that demonstrates human commonalities across religions, cultures and time itself.
Rabbinical student Stephanie Breitsman shares how learning sofrut (scribal arts), and writing her own Megillat Esther, is deepening her relationship to our sacred literature.
Joel Hecker, Ph.D., professor of Jewish mysticism at RRC, shares 10 aspects of luminosity outlined in kabbalistic literature. In this teaching on mysticism, he names different manifestations of the Divine presence.
In honor of Evolve's five-year anniversary, Rabbi Alex Weissman tackles the problematic theme in Jewish tradition of equating light with goodness and dark with evil.
This original music video honors the literal act of planting as well as the metaphorical planting undertaken by each generation to create flourishing Jewish communities.
Poet Hila Ritzabi, who leads Ritualwell.org, offers a little Tu B'Shvat 101 and then steps into the great outdoors to recite a powerful poem about climate change and the redemptive power of nature. It is sure to enhance your observance of the New Year of Trees.
This stirring poem by Trisa Arlin confronts nature's destructive power, yet finds hope in the power of individuals and communities to survive, assist and comfort.
Reconstructionist leader Marc Overbeck watched the most recent Israeli election returns with mounting concern regarding the future of a democratic Israel. In this podcast, he raises up two idealistic thinkers — Rabbi Mordecai Kaplan and Theodor Herzl — and offers an impassioned defense of the idea of democratic government as a force for good.
Adva Chattler offers a new ritual and meditations to follow Shabbat candle-lighting, derived from a teaching in Midrash Bereishit Rabbah.
In their meditation on the metaphor and meaning of darkness, Kendra Watkins, whose grandfather Bill is an astronomer, says that "darkness is as old as G!d G!dself."
This d'var Torah by Rabbi James Greene was written for Martin Luther King Jr. weekend several years ago and refers to specific events occurring at the time it was written. However, its insights remain relevant more than a decade later.
Rabbi Sid Schwarz, author of Jewish Megatrends, discusses the phenomenon of "tribal Jews" and "culture Jews," and the how the two groups, which largely break down along generational lines, view Jewish life very differently. He also shares lessons learned from his nearly 40 years in the rabbinate.
Sundown, twilight, nightfall. Devon Spier evokes the power and importance of this liminal time, especially around Shabbat.
Bryan Schwartzman reports on the pilgrimage to the South for Jews of African descent who serve as leaders of the Reconstructionist movement. Participants were able to engage in healing work and visit sites imbued with trauma within a Jewish and Black context.
President Joe Biden just signed into law the Respect for Marriage Act protecting the rights of same-sex and interracial couples to marry. Hila Ratzabi marks this historic occasion with a joyful blessing.
Though we continue to Zoom across geography, Jessica Moise-Grodsky's blessing for scheduling a "Zoom Shabbat dinner" with some distant family, which she composed about two years ago in the early days of the COVID-19 pandemic, remains relevant for us today.
Rabbis Annie Lewis and Yosef Goldman created this ritual to mark the occasion of the first yahrzeit (anniversary of the death) of a loved one in one's home, after sundown on the night of the yahrzeit.
Tiferet Welch's poem drashes on what she sees to be the essence of this week's par'shah: "The truth-telling of family can be a complicated business."
This year Hanukkah and Kwanza overlap. According to Dr. Tarece Johnson, "these celebrations are an opportunity for us to reconnect with our community and remember the miracles of light, love and hope."
Rabbi Jessica Lott teaches about the apocryphal story of Judith, a Jewish hero whose story is connected to Hanukkah.
Rabbi Jill Hammer explains that in North African countries, the seventh night of Hanukah, Judith's night of triumph, was set aside as Hag haBanot, the "Festival of the Daughters," which falls on Rosh Hodesh Tevet.
Ariel Neshame Lee created this meditation for the eighth night of Hanukkah, when we light eight candles. In Jewish mysticism, the number eight represents pure potentiality, transcendence, infinity.
The story of Hanukkah invites us to kindle lights in the darkness, and to overcome despair with hope and action. In this spirit, Rabbi Sharon Kleinbaum reflects on the extraordinary work of her community, and how it embodies the fundamental connection between spiritual life and social activism.
Rabbi Jason Bonder discusses hanukkiyot, the Hanukkah menorah, and shows how to light the candles for the holiday.
Adva Chattler guides you in making a family Hanukkah favorite and cousin to the latke — aruk  — as a delicious way to remember the miracle of the oil.
Bryan Schwartzman shows how the entire history of Hanukkah and its observance demonstrates the Reconstructionist understanding that Judaism is "the evolving religious civilization of the Jewish people."
"Maoz Tzur" ("Rock of Ages"), is a Hanukkah classic. Rabbi Alan LaPayover demonstrates how a Reconstructionist take on this medieval poem reframes our understanding of the "Festival of Lights."
We invite you to recite the Hanukkah blessings, composed by Kolot: The Center for Jewish Women's and Gender Studies, on at least one night this year using the feminine pronouns for God. Does your sense of the Divine shift?
These discussion starters by Solomon Hoffman are as relevant now as they were in 2016. How do we grapple with and respond to this moment in America and more deeply explore each of our own identities?
Using this Hanukkah folktale, George Kelley explores how sometimes when seeking justice, we need to find how to get out of our own way.
Cara Hamilton likes to read a poem at the moment the candles go out, – a bit of solitude when the lights are gone.
As the days get shorter and darker, Rabbi Janet Madden's poem anticipates the illumination that will come with the "Festival of Lights."
Rabbi Jay Michaelson separates myth from fact and explains why Jacob Frank's radical philosophy may have been a precursor to how many non-Orthodox Jews relate to the tradition today.
This week's Torah portion, Vayishlah, contains the story of the reconciliation between Isaac's sons, Jacob and Esau. Rabbi Lewis Eron teaches how reconciliation goes hand-in-hand with spiritual maturity and emotional growth.
Rabbi Shelia Peltz Weinberg guides us in imagining a star in the sky — warm, soothing light just for you.
In this poem, Tiferet Welch has taken some of the mystical meanings of the Hebrew letters of Shir Hashirim, "The Song of Songs," and written them into stanzas.
The time of Covid has changed religious communities. And according to the Rev. Katie Day two high-profile events and the rise of antisemitism (and all hate crimes) have transformed our understanding of security. But is it in ways we would rather not have changed?
In the wake of recent shootings Alden Solovy's poem is all too timely and relevant again and speaks to our communal grief, anger and exasperation.
Rabbi Sheila Peltz Weinberg leads this meditation, which is a good practice anytime that you find yourself stressed, confused or fearful.
From a conversation preceding the holiday of Shavu'ot Rabbis Jeremy Schwartz and Deborah Waxman speak about modern Hebrew poetry and how modern Hebrew poets take apart traditional language and ideas and create something new from ancient building blocks.
As a nod to our father Jacob, who dreamed a dream of angels, we present this poem by Suzanne Sabransky.
Performed by Dr. Koach Baruch Frazier and Marques Hollie for "Reconstructing the Voice of Leadership: A Day of Giving to Support Jews of Color."
Terry Boyle's poem takes off on Jacob's dream of angels ascending and descending a ladder (Genesis 28:12-22).
Rabbi Gila Colman Ruskin reconstructs the Thanksgiving celebration in her poem that bears witness to the experiences of the Wampanoag people of Massachusetts Bay.
Rabbi Deborah Glanzberg-Krainin teaches: "On Thanksgiving, I acknowledge all that I have and pray that we will all have more to be thankful for next year."
Rabbi Lauren Grabelle Hermann composed this prayer for the current election season, "so that democracy can work as it should, a holy exchange between the governing and the governed."
Reconstructing Judaism commissioned two Black Jewish artists affiliated with the movement — Ayeola Omolara Kaplan and Marjorie Attingol Salvodon — to respond to last year's Movement Wide Day of Learning on Reparations. Those works were installed on the walls of the Reconstructing Rabbinical College's suburban Philadelphia building during a Sept. 7 program and made a part of its permanent collection.
Rabbi Daniel Raphael Silverstein leads this meditation based on the teaching of the Hassidic master, Levi Yitzhak of Berditchev, that we should strive to make our relationship with the Divine more like that with a loving parent than like that with a king or sovereign.
According to Rabbi Lewis Eron, "by telling us so little about Abraham's peaceful second life, our ancestors did not write Abraham out of the story but gave him and us the opportunity to explore the special blessings we can find as we live our second lives."
Tiferet Welch's prayer/poem reflects on the stories and themes of this week's Torah portion, Hayyei Sarah.
Shekhinah Speaks, by Joy Ladin, gives voice to the Divine Feminine by remixing language from the book of Isaiah and Cosmopolitan magazine. There Are Still Woods by Hila Ratzabi is an urgent, prayerful book of poems responding to the climate crisis and includes the voices of spirits, gods and goddesses from a variety of sources.
Autumn becomes most evident during this month, which is celebrated in Ann Kanter's sensual poem.
This "Essence" is taken from the Sourcebook for Leaders, written by Rabbi Rachel Gartner and Barbara Berley Melits, for Rosh Hodesh: It's a Girl Thing, a program created by Kolot: The Center for Jewish Women's and Gender Studies to strengthen the Jewish identity and self-esteem of adolescent girls through monthly celebrations of the New Moon festival.
Rabbi Steven Nathan teaches that this story can serve as a warning to us today: The desire for wealth and security is a natural and healthy drive, but if we are not careful, it can overtake us and, in its extreme form, threaten us with economic and social destruction.
Deep belly breaths led by Rabbi Sheila Peltz Weinberg connect us to nishmat kol hai, the "Breath of Life" that animates all creation.
Alexandra Corwin, a noted educator and organizer with Ashkenazi, Peruvian and Quechua heritages, will delve into why Jews of Color need affinity spaces and how such spaces can benefit all Jewish communities.
The Torah portion begins the saga of our ancestors. Amy Steingart's poem evokes all of those who came before her.
Rabbi Jonathan Kligler teaches that as Abraham's spiritual journey continues, the commitment he makes to be vulnerable and open is going to allow himself and Sarah to conceive a child, to be vessels of life.
This experimental immersive theater piece by Logan Schulman uses music, stage directions and pointed narration to craft a soundscape that engages the listener's heart and mind. Sourced from Reset, providing Jewish activists with accessible spiritual practice and teachings.
We remember the shooting at the Tree of Life synagogue in Pittsburgh with Shoshana Lovett-Graff's poem, crying out for our silence to be heard in the sirens, the whistles, the echoes and the sighs.
While appropriate at all times, this prayer by Rabbi David Mevorach Seidenberg is particularly suitable during the week that the Torah portion chapters about Noah are read.
On Shabbat Sukkot, 5783, Rabbi Deborah Waxman, president and CEO of Reconstructing Judaism, spoke at Philadelphia's Congregation Mishkan Shalom. She focused on how Jewish practices and rituals cultivate resilience within individuals and communities, sustaining the Jewish people through the ages.
Xava De Cordova explores the ethical question: Does Judaism have anything to say about remembering people who have hurt others and speaking honestly while avoiding lashon hara (derogatory speech)?
Poet and director of Ritualwell Hila Ratzabi discusses creativity and the role it plays in her life and its valuable place in Jewish civilization.
Martin Hasan presents a non-theistic ceremony for marking the end of Shabbat and the return to ordinary week.
The Rev. Wil Gafney, biblical scholar and Episcopal priest, paints a more accurate picture of our Afro-Asiatic forebearers, making a case that engaging with the racist history of biblical criticism and Western art is key to forging a more just future.
Shahanna MicKinney-Baldon, a Reconstructing Judaism board member, portrays Madame Goldye Steiner, a Black cantor who performed traditional Jewish music a century ago.
"It is our work in the world with the people in our lives," teaches Rabbi Steven Nathen, "that enable us to find God. Only then can we truly be rewarded with the experience of the holiness and peace that is represented by Shabbat."
In this poem, Cathleen Cohen reflects on the creation story of Genesis 2 and wonders: "Don't we all have seeds of paradise within us?"
Shabbat completed the work of Divine creation. Rabbi James Stone Goodman offers this prayer to complete our own work.
Leslea Haravon Collins's poem plays on the phrase re-nefesh (to "re-ensoul"), coined by Alan Lew in his book, This Is Real and You Are Completely Unprepared.
There is a Jewish tradition of immersing in a mikveh before Rosh Hashanah and Yom Kippur. Lisa Braun Glazer presents this opportunity to prepare oneself to enter this time of renewal.
This video of Solomon Hoffman's (rabbinic leader of Mishkan Ha'am (Westchester, N.Y., and RRC student) setting of Psalm 147 has been played in services around the world and was profiled by the public-radio program "Interfaith Voices."
In this week's d'var Torah, Rabbi Jonathan Kliger teaches that, as they enter the Promised Land, the Israelites "will not be able to build a trustworthy community unless each one of them is able to monitor their own moral choices … and take responsibility for his or her own actions, whether or not anyone else will ever know."
Noted historian Jack Wertheimer discusses his research into how "ordinary" Jews are experiencing Judaism in the 21st century.
This poem by Maia Conrad marks "the grace of a dedicated separation between the mundane and the sacred, prescribed by G-d's compassion" to restore the soul's tranquility.
This setting for the opening lines of Psalm 27 — the penitential Psalm, which in Jewish tradition is recited every day in the month before Rosh Hashanah — is sung by Rabbi Dayle Friedman and accompanied by Peter Simpkins.
Rabbi Josh Snyder offers a ritual to bless our animal friends as a hillula — an annual rejoicing on the anniversary of the death of an important Rabbi — for Rav Avraham Yitzchak Ha-Kohen Kook (1864-1935), the first Chief Rabbi of Eretz Yisrael, who envisioned the Messianic age as a time when all would be vegetarian, and no animal sacrifices would be offered.
In his comments on this week's Torah portion, Rabbi Lewis Eron teaches that "in time, all the material blessings promised by Torah will fade. What is good and lasting in the Torah are the words themselves and the actions they demand."
Rabbi Kevin Bernstein has performed hundreds of b'rit milah ceremonies. In this segment, he responds to critics who question the safety and continued relevance of circumcision, including our two prior guests, Gary Shteyngart and Max Buckler, and attempts to demystify and explain what happens at a b'rit milah.
Janice Steinberg wrote this blessing influenced by a book by psychologist Miriam Greenspan about the alchemy of Healing Through the Dark Emotions. She asks, "How do we get in the mud with the 'oogy' feelings and find the treasure?"
On this Shabbat Nahamu/Shabbat of Comfort, Rabbi Lewis Eron writes:, "We do not have the insight to foresee the final resolution of the many complicated issues that confound the relationship between Israel and the Palestinians. We can, however, pray with the words of the Psalmist that our prophet's vision of a Jerusalem prosperous, secure and at peace will someday be realized."
In the first of a two-part series examining circumcision, two critics of the practice — best-selling novelist and memoirist Gary Shteyngart and Max Buckler, author of the Evolve essay, "Be Honest About the Bris" — discuss circumcision from the perspective of morality, Jewish tradition, medicine gender norms, and the rights of parents and children.
This Havdalah ceremony, based on an ancient minhag (custom) of going to a natural spring or well after Shabbat, and drawing and drinking water, was created by Martha Hurwitz and Rabbi Janet Madden.
This panel focuses on how creative works — the works of art, drama, music, and the like — can be called forth to meet our experiences of God/divinity/holiness.
"Anxiety, violence and despair engulfed her world," writes Rabbi Janet Madden as she describes the Shekhinah's response to learning of the destruction of the Temple. This Tisha b'Av, her poem speaks to us as we "journey from destruction to destruction."
"In his d'var Torah on the opening chapters of Deuteronomy, Rabbi Steven Carr Reuben says:, "Here we find our greatest and most humble leader, Moses, at the end of his life, having just as much difficulty accepting responsibility for the consequences of his decisions as the rest of us."
Rabbi Jacob Staub explores the observance of Tisha B'Av and the value of dwelling on ancient tragedies.
Bryan Schwartzman profiles newly graduated Rabbi Alanna "Lonnie" Kleinman.
Zoe Greenberg talks about what it is like to be a reporter and researcher for The New York Times, why she got into journalism at a time when the traditional business model for newspapers has broken down, what it is like to be raised by a Reconstructionist rabbi, and what millennials are looking for in Jewish community and Jewish experiences.
Martha Hurwitz created this prayer as a member of a very small synagogue with just a few children. Most of the parents seemed uncomfortable when the rabbi initiated a ritual for them to bless their children, so she thought it would be more comfortable if everyone joined in.
Sarah Schmerler offers this art project for the Nine Days, a period of semi-mourning observed by religious Jews that begins on Rosh Hodesh Av and culminates in a full fast day known as Tisha B'Av.
The final portion of Bamidbar, Mas'ey or "Journeys," begins with a lengthy recounting of every encampment to which the Children of Israel sojourned during the past 40 years. Looking at the names of these places, Rabbi Jonathan Kliger notes that they are heavy with symbolism: Are they real places or states of being?
Rabbi Benjamin Weiner explores the ways that traditional Hebrew prayers can provide meaningful spiritual experiences for those who neither understand Hebrew nor believe in a God who hears and responds to our prayers.
Claudia Horwitz's life's work has focused on integrating spiritual practice with the work of social change. In this conversation, she shares the strains that social–justice work can inflict on activists and articulates the importance of deep inner work in anchoring and sustaining individuals and groups in their work of tikkun olam.
Begin Shabbat with Maia Conrad's prayer to mark the holiness of this moment.
Rabbi David G. Winship prays, "May our courts, our places of power, our streets fill with those who know the price, and who will make change."
According to Rabbi Richard Hirsh, this week's portion asserts that "the Torah teaches that transitions are inevitable and that the key is to manage them in ways that support continuity, involve the consent of the community, and demonstrate the willingness on the part of the departing leader to support the new leader."
Legal scholar, philosopher and policy analyst Nathalie Smuha delves into Jewish philosophy to better understand how society can respond to artificial intelligence.
Rabbi Alex Weissman suggests that going beyond the notion of b'tzelem Elohim and diving into the Jewish legal questions that animate the lives of LGBTQ+ Jews could open doors for maintaining a relationship with halakhah.
Heather Paul's Kaddish offers words of comfort alongside the struggles of a heart in pain.
Despite a world full of pain and evil, Trisha Arlin can still pray to see its wholeness and goodness. May we be able to share her prayer.
Rabbi Armin Langer explains that Judaism has traditionally maintained a far more diverse approach to gender expressions than Christo-normative "Western" societies have.
What happens when a rabbi and a spiritual seeker carpool to work, stick a camera on the dashboard, and invite the world to watch? You get "Carpooling with Rabbi," a 36-part YouTube series. Rabbi Seth Goldstein and Kirsten relay the power of talking and the challenge of driving safely while discussing weighty philosophical topics.
Rabbi Toba Spitzer discusses her just-published book, God Is Here: Reimagining the Divine, with Rabbi Nancy Fuchs Kreimer and Rabbi Jacob Staub.
To help us fully appreciate the food that sustains us, read Debra Smith's intention to precede eating.
This guide, prepared by Madison Emmanuelle Slobin and Cantor Shira Stanford Asiyo, will walk you through various Shabbat rituals and teachings to understand this weekly holy day.
In her d'var Torah on parashat Hukkat, Rabbah Arlene Berger offers some clues to what we can learn from Miriam's death and how the Israelites react to it. 
When times are hard, we often question the value of prayer. Sara Stock Mayo's prayer helps to nudge us back to a meaningful path.
Rabbi Leiah Moser has two passions: studying Talmud and composing electronica music. In this conversation, Bryan Schwartzman and Rachael Perice (nee Burgess) uncover the links between Jewish tradition and funky modern music. 
Rabbis Roni Handler and Darby Leigh perform the Shehekheyanu blessing in American Sign Language, with a melody by Tzvika Pik.
Rabbi Elizabeth Bolton suggests that the story of Korah's rebellion against Moses in this week's parashah, complex though it may be, offers a simple teaching about our basic freedom to challenge authority and redress injustice wherever we may find it.
This ritual, created by the National Council of Jewish Women (NCJW) can be used as a space for your community to mourn, sing, pray, connect, unite and separate what we knew from what we now know.
On this 246th Independence Day, as we ponder the state of our nation, why not reacquaint ourselves with the document on which the American experiment began?
David Lubell, founder and Executive Director of Welcoming America, discusses what brought him to Ecuador, how we've unwittingly taught our children to fear the other and why he's dedicated his professional life to making America more welcoming to immigrants.
With Steve Pollack's poem, we enter Shabbat centering ourselves in the present and refreshing ourselves so we may face a new tomorrow.
Inclusion is a core principle of Reconstructing Judaism, and the Reconstructionist movement has a 100-year history of expanding access to Jewish life and community. Rabbi Ari Lev Fornari discusses how our affiliated communities share that commitment and actively pursue ways to translate those commitments into practice.
Jill Ratzan helps us to separate the end of the school year from the beginning of summer and all of its activities with this havdalah ceremony.
In his d'var Torah, Rabbi Jonathan Kligler reminds us that "however lowly you may think of yourself, your projection that we share the same low opinion of you is unfounded, even ridiculous."
Rabbi Deborah Waxman, president and CEO of Reconstructing Judaism, and Rabbi Nathan Kamesar, rabbi of Society Hill Synagogue in Philadelphia, discuss the ubiquity of technology and the opportunities and challenges it brings to Judaism.
Challenging parent-child relationships become extra difficult on these "special" days. This poem addresses the stress that might arise for daughters on Father's Day.
On May 22, Adam Cerino Jones and five of his classmates became rabbis at RRC's 50th graduation ceremony. Moments after being called rabbi in public for the first time, Cerino Jones stood on the bimah and performed an original melody for a line from Psalm 65, which his classmate, Rabbi Sarah Brammer-Shlay, translated as "let silence be praise for God."
From this week's Torah reading, Rabbi David Stein teaches that ultimately, the answer to the challenge of our physical cravings may be spiritual sustenance.
In her Senior Torah presentation, newly graduated Rabbi Sarah Brammer-Shlay challenges the notion that Jews who express solidarity with Palestinians "do not love our people enough. Ahavat Yisrael seems to have become a weapon to shame and marginalize, instead of a call to see the fullness and potential of the Jewish people."
In honor of Juneteenth, learn to read the biblical scriptures through the eyes of a contemporary African-American woman with the Rev. Wil Gafney's essay.
Cantor Vera Broekhuysen challenges the law and policy-makers to go beyond their "thoughts and prayers" in the face of dead children.
Poet-musician David Glaser finds God in the creating of a new song.
BimBam, a nonprofit Jewish media studio, has created more than 350 animated videos for children and adults. BimBam's founder, Sarah Lefton, and executive director, Jordan Gill, explain how they have sought to revolutionize Jewish education through digital storytelling and meaningful screen time.
In her reading of parashat Naso with a "queer eye," Rabbi Toba Spitzer finds the Torah coming to a successive and progressive understanding of what it means to be queer in relation to the larger society.
Opening the Reconstructing Judaism convention, Rabbis Nancy Fuchs Kreimer and Mordechai Liebling shared stories of their careers, in which they brought their theological values to life through their public activities.
On this Erev Shavu'ot, Karolyn Benger ponders the possibilities had the Torah had been interpreted by all of us instead of just a few?
In this week's Torah reading, Rabbi Jonathan Kligler teaches that "the journey to the Promised Land is the journey towards a society in which we all remember that everyone counts."
Summer is upon us, and so is camp season. Rabbi Isaac Saposnik, executive director of Havaya Summer Programs, discusses the latest trends in Jewish camping — from shorter sessions to the rise of specialty camps.
In the face of relentless tragedy and grief, Rabbi Nina Mandel struggles to find the "right" words, all the while knowing how inadequate words often are.
As we anticipated reading the book of Ruth on Shavu'ot, Rabbi David Gedzelman explores the text with an eye towards literary elements that address how Tanakh advances structures of covenantal openness, societal protection, and compassion towards the "other," built on but transcending the requirements of the Law.