As we see the unimaginable events in Israel, we might feel helpless and disturbed. Our tradition and rituals can provide some comfort, sense of togetherness, healing and purpose, in times of communal crisis. The ritual of Taking Challah invites us to bring a spiritual moment to the basic substance of bread. Ritualwell invites you to join together as a community, bless and braid our challah bread, and through this ritual, we will pray for healing to the wounded; safe return for the captive; and honor the memory of the lives lost.
A recipe for challah will be provided, you can also make your own.
Optional: Make more Challah and share it with your community. Add a note and ask for prayers for Israel, for hope and for peace.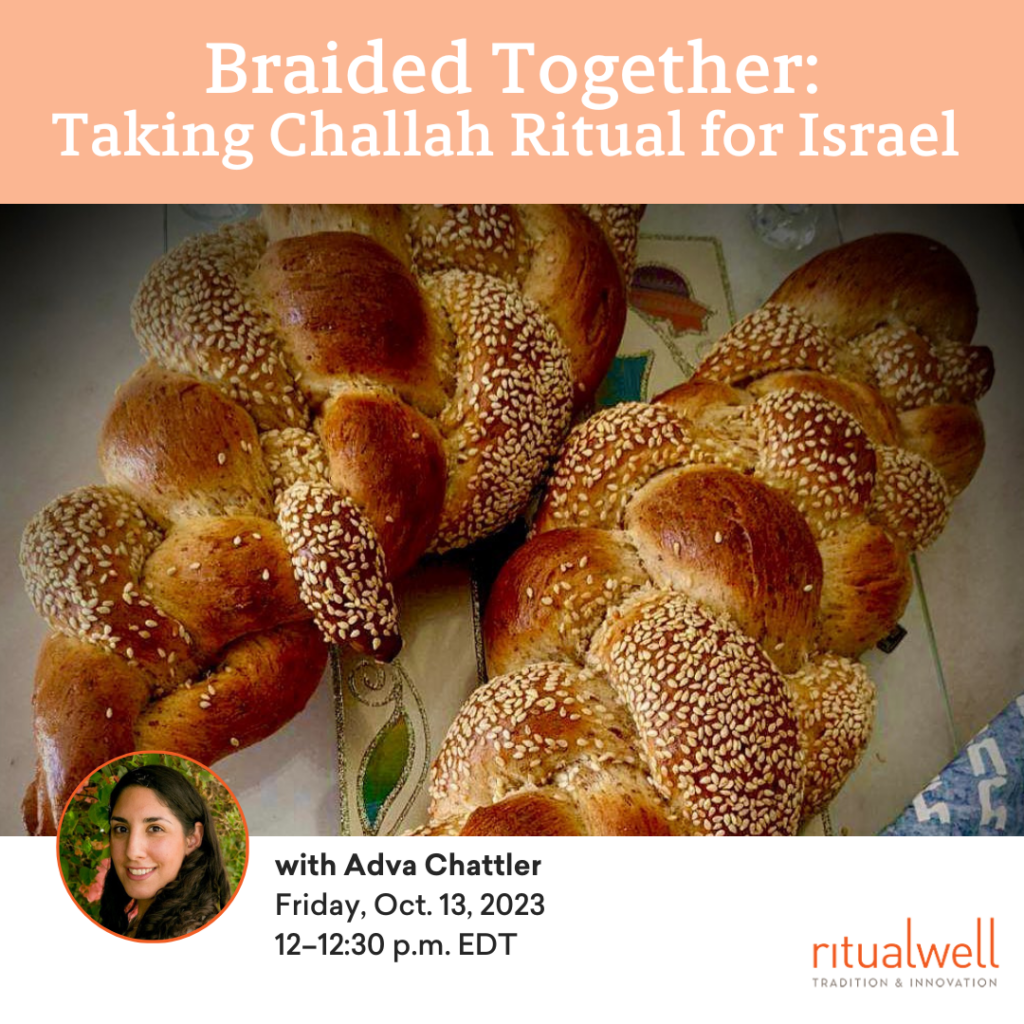 Challah recipe (makes 4 large loafs)
7 cups flour
1 cup sugar
2 tbsp yeast
1 tsp baking powder
1 tbsp salt
1 cup oil
2 eggs
2 ½ cups lukewarm water
Egg wash and sesame seed (optional) for decoration before baking
In a large bowl, add flour, sugar, yeast, salt, and baking powder. Mix together. Add oil and eggs and 1 ½ cup of the water. Start mixing. Add water as needed, until forming an elastic, slightly sticky dough. If dough too sticky, add flour. If dough is too dry, add water, a tablespoon at a time.
Let dough rise in a greased bowl for 60-90 minutes until doubled in size. Uncover, knead to let all the air out. Cover again and let rise for 30-45 minutes until doubled in size.
Knead the dough again, cut and shape to braided challah as you like. Place in pan and rest for 15 minutes, to proof again. Brush in egg wash and sprinkle with sesame seeds before baking. Bake @ 375 F/ 180 C for 25 minutes until golden brown.
Possible note to attach to Challah
Dear Friend,
This is Challah bread, a traditional bread we make, bless, and eat on Friday nights while welcoming Shabbat, our holy day of the week. This Challah was made in memory, and in blessing for the people of Israel in these dire times of distraction and war. I give you this Challah to share nourishment, love, and peace, that is so much needed right now, and ask you to keep Israel in your hearts and prayers.
May the injured find healing; may the captive go free; may the memory of the ones we lost be a blessing.