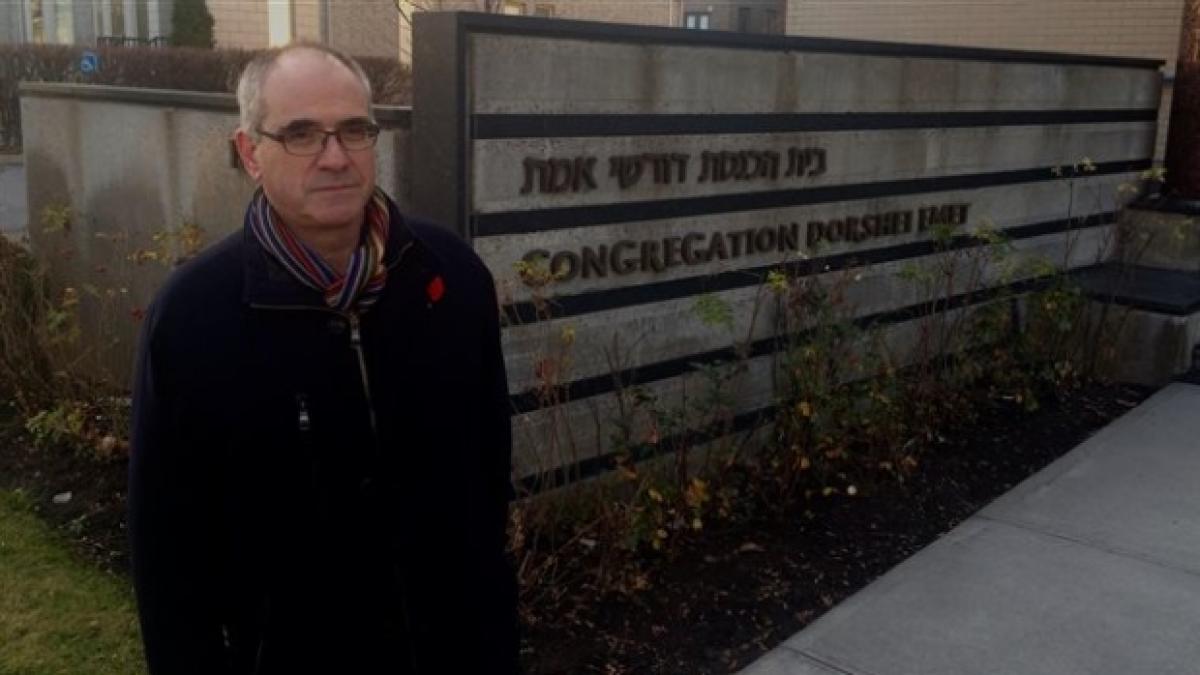 (Photo from CBC)
In the wake of the Syrian refugee crisis, Congregation Dorshei Emet in Montreal started a campaign to sponsor a refugee family. The campaign was so successful, the community raised enough money to sponsor four refugee families. We were happy to hear that the first of the four families arrived in Canada last month. Below is the congregation's announcement to the community:
Some of you may have already heard the exciting news…the first of the four Syrian refugee families sponsored by Dorshei Emet arrived in Montreal at Pierre Elliot Trudeau Airport on Monday, February 20th, 7p.m.!
This family of six – parents Siry and Noura and their four children (daughters Ranem, 12; Sara, 11; Rama, 2; and son Reyad, 4) were warmly welcomed with welcome signs, a bouquet of flowers and stuffed animals, by Siry's sister and her family, as well as by Rabbi Boris, Sarah Dolin, their three children and members of the Syrian Refugee Sponsorship Committee. After almost four hours of paperwork, the family finally appeared – nearly 24 hours after leaving Lebanon, their home for the past several years. Witnessing their joy and tears of happiness as they hugged and kissed their Montreal relatives made the long wait for Siry's family and all our efforts these last 16 months worthwhile!
Siry's family is now living with relatives in Cartierville (15 people in one home) and will remain there for several weeks until they have found a place of their own, probably in a nearby location. They have already visited the local resettlement agency and received a lot of helpful information regarding French language classes, registering for health and social insurance cards, schooling for the children, etc.
Our Committee collected winter clothing, boots and toys before their arrival. (Furniture and household items are still in storage.) As of now, we do not need anything, but will keep you posted if things change. We appreciate our members' continued generosity!
The day after their arrival, we received the following email from Faisal Alazem,  president of Syrian Kids Foundation who suggested two of the four families that our Synagogue sponsored.
Faisal included the following text message that he had received from Amine, who is married to Siry's sister:
Dear Dorshei Emet Friends,

I am writing you to thank you for the extraordinary job you've done in welcoming Siry and his family. I attached messages sent to me by Siry' brother in law Amine.

God Bless You!

Faisal
Amine's text as it appeared:
Akhi Faisal, I hope all is well. Siry and his fam came finally yesterday! So we are absolutely ecstatic! We definitely want you to meet them soon. But I have to tell you something more amazing that I noticed yesterday at the airport…

The plane landed at 7pm and there were already about 5 ppl from the Congregation waiting with us incl Garry and his filming crew. There was a long delay of about 3.5 hours for them between the time landing and us seeing them. There was about 15 ppl from the congregation including the rabbi, his wife and their young kids. When we realized there would be a huge delay, we thanked everyone and said, we will see them soon. But everyone stayed. On a Monday evening standing with welcoming boards, flowers. Even the rabbi and his wife who was sitting on the floor with the kids, all waiting for this Syrian fam who've they never met.

Even I was getting impatient, yet they were extremely cool.
Faisal responded:
They are good people. Im happy to hear that.
As of now, we have no news regarding the arrival dates of the next two families, which we hope will be soon. We will let you know as soon as we know and will keep you abreast of news about Siry and his family as well.