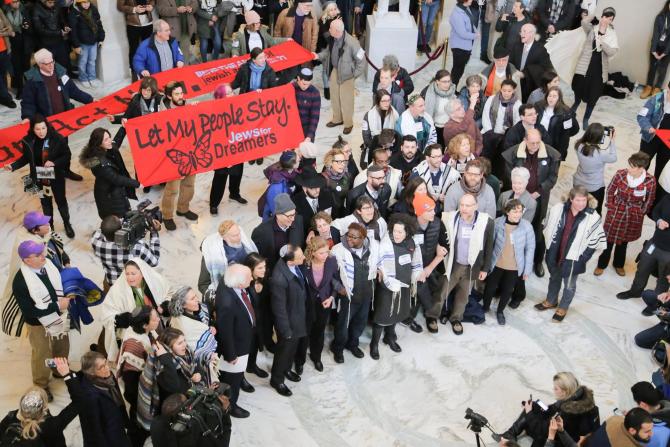 Eighty-six Jewish activists, including six Reconstructionist rabbis, were arrested in Washington, D.C., on Jan. 17 in a bold act of civil disobedience. Protesters occupied the central rotunda of the Russell Senate Office Building and refused to move, demonstrating solidarity with the more than 800,000 Dreamers and DACA holders whose immigration protections were hanging in the balance as Congress debated the renewal of the DREAM Act.
Rabbi Elyse Wechterman, executive director of the Reconstructionist Rabbinical Association, and Rabbi Mordechai Liebling, RRC faculty member, were arrested, along with fellow Reconstructionists Rabbi Fred Scherlinder Dobb, Rabbi Barbara Penzner, Rabbi Sharon Kleinbaum, Rabbi Shira Stutman and others.
Liebling shared a personal story as his motivation for joining the protest: "I am an anchor baby; my parents were Holocaust refugees, and the only way they could stay in the U.S. was by having a child born here. I know in my bones that Jews must fight for the right of people to have a safe refuge."
Wechterman spoke with passionate clarity, asking: "How can we stand idly by while immigrants who have lived among us—built homes, families and careers—are carted off as if they were not part of our human family?"
At the Senate office building, protesters were surrounded by hundreds of supporters from immigrant advocacy coalitions, including members of United We Dream (https://unitedwedream.org/about/), the largest immigrant youth-led movement in the country, many of whom were visibly moved by the public demonstration of solidarity. As of Jan. 19, more than 750,000 people had viewed Bend the Arc's video of the action. Live coverage of the protest was featured on MSNBC, and articles have appeared in the Huffington Post and the Israeli-based Haaretz.