This article was originally published on July 6, 2017 on eJewishPhilanthropy.
What do the French Jewish philosopher Emmanuel Levinas and a strategic communications mindset have to do with nonprofit fundraising? In my opinion, everything. At its core, fundraising, at least the way RRC approaches it, is about combining a sense of wonder and awe with strategy aimed at accomplishing certain goals. We try to think about the endgame first – what do we want others to know about us, feel about us, believe about us, and ultimately what actions are we hoping they will take? And then we look to fundamental questions of meaning and experience to get us there. To get a feel for our approach to strategic communications, have a look at our latest video entitled "Let's Journey Together." To bring the old adage into our own era, an animated video is worth a thousand words.
As vice president for strategic advancement at the Reconstructionist Rabbinical College & Jewish Reconstructionist Communities, I was thrilled that our organization was recently cited in an eJewishPhilanthropy article by Robert Evans. Evans is a renowned fundraising expert who sits on the editorial review board of Giving USA, the annual survey of American philanthropy. The article referenced our "innovative techniques."
Over the past three years or so, our team has worked hard to align with best practices, following the model of higher education institutions. We've increased our focus on major gifts and major gift prospects. We've also used our email fundraising efforts – where we have adopted quarterly NPR-style campaigns – as a kind of innovation lab to test messaging and graphics that try to deliver on the above combination of strategy and our own senses of purpose and responsibility. The results have been encouraging: last fiscal year, we saw an increase of 13 percent in total giving and hope to approach that figure this year. Expert research indicates that 2-8 percent is generally considered the typical scale of modest to high increases.
If our development program is innovative, it is due to how we have integrated strategic communications with development holistically, so that we approach our supporters in a way that combines a strategic plan with a profound message. We have leaned into bold messaging and have shifted to newer communications platforms. We've also been lucky to have a good story to tell: the Reconstructionist movement writ large is, I believe, in a comparatively advantaged position to appeal to North American Jews and beyond. On the more concrete level, our Department for Innovation and Impact has proved an exciting area for savvy philanthropists.
The extent to which our organization deviates from the mean Jewish-organizational approach to fundraising stems in part from the Reconstructionist movement's unique and daring personality. Personally, I came into this position with fresh eyes and very little direct fundraising experience, although I had spent six years with two strategic communications consulting firms. I often describe myself as working on the organizational side of a spiritual enterprise. As an academic in religious studies and scholar of modern Jewish thought specifically, I have been shaped by both the Jewish and western philosophical traditions: our collective quest for wisdom, how to live morally in the world, and what we feel called upon to do. Levinas organized all of human experience, language, work, family, and so on, as an outgrowth of a single orienting experience, the encounter with the face of another human being. This encounter calls us to live, to speak, to build, and most importantly, to tear the bread out of our own mouths and give it to the widow and the orphan. An extreme example, to be sure, but one that I spent many years unpacking and learning from.
Levinas argued that we are all motivated, in every way, by our fundamental experience of responsibility for the Other. As a student of Levinas and a fundraising professional, I see it as our team's job to find the right experiences, words, and pictures to amplify this call that we all already hear within us. It is our work to strip away language and modes of communicating that no longer sing and find new, perhaps jarring or unsettling, ways to pierce through the endless noise to get us back to what is profound and meaningful about life. Fundraising is an encounter, an appeal to an individual's highest aspirations and values. This endeavor, then, should be carried out with the deepest respect and guided by a commitment to transformational purpose.
In my professional life, I have also learned that the difference between strategic communications and just communicating is that strategy requires a researched understanding of who you are communicating with, a clear articulation of where you are trying to go (what do we want people to know, believe, feel and do?), and a game plan for getting there (timeline, tactics, etc.). It has become second nature for our team to ask questions such as: What facts do we want this audience to know about our organization? What emotions do we want them to feel about us? What are we asking this audience to believe, and why should they believe it? And, what actions do we want them to take?
To return to our Let's Journey Together video, two years ago we made a somewhat risky decision to replace our written annual report with an animated video embedded in a website that provided the more typical annual report information (financials, board members, etc.). We're an accredited academic institution, and articulating our message through animated figures wasn't an obvious choice. Nonetheless, we knew for certain that the written words and format of a printed annual report simply were not succeeding in piercing the noise and connecting with any of our audiences, especially our donors. And we discovered that the new format, for now, resonates meaningfully with our people and those who are interested in us. Thousands have already found and viewed it through social media since we released it a few weeks ago. When I sit with our supporters and screen it on my iPhone, it provides an instant refocusing of our conversation onto what matters most – the problems we face, what we are doing about them, and how we can partner to do more.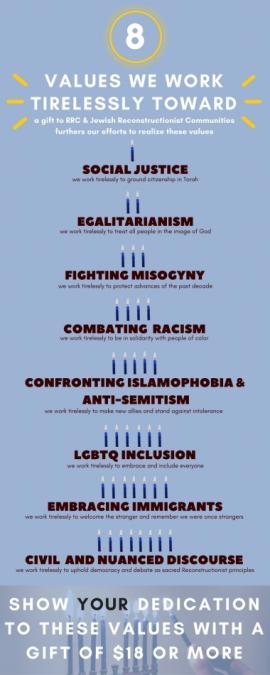 The report is just one way we pushed the envelope in new mediums and messaging. For example, this past Hanukkah, we structured our integrated fundraising campaign (email, snail mail, tele-funding and social media) around eight values that a gift would support, such as gender equality, welcoming the stranger, social justice, fighting misogyny, LBGT inclusion, combating Islamophobia and anti-Semitism. The highlight of this campaign was a graphic that clearly raised up several values that we believed were in jeopardy. The theme, insofar as it had certain political implications given how close it was to the election and inauguration, clearly strayed from safer territory. However, it resonated with many of our donors while remaining true to our own values.
Mixing Levinas and strategic communications theory and practice will not solve all the challenges facing non-Orthodox Jewry. But calling others back to what truly organizes and guides our most important and most human actions just might ignite the passion and commitment of enough supporters to a make a real difference. At its best, fundraising is a meaningful, even spiritual exercise. If your organization's ultimate goal is some variation of making the world a more just, compassionate and holy place, you should have a memorable and compelling narrative to convey. The hard part is figuring out the best ways to speak to the fundamental core of your audiences in a way that motivates individuals to join the team. Good luck.