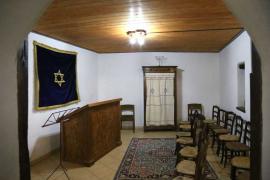 The Sinagoga Ner Tamid del Sud in Serrastretta, Italy is the most recent congregation to formally affiliate with the Reconstructionist movement. On June 11, the board of governors of the Reconstructionist Rabbinical College & Jewish Reconstructionist Communities approved the affiliation application of the 11-year-old congregation, located in Calabria, a region in Italy's far south. 
The synagogue is now the Reconstructionist movement's third congregation outside North America. In total, the movement has close to 100 affiliated communities.
"We are thrilled to welcome our first Italian affiliate to our movement," said Rabbi Deborah Waxman, Ph.D., president of the Reconstructionist Rabbinical College & Jewish Reconstructionist Communities. "Through their heroic efforts to reclaim their Jewish past from painful history, the members of the community of Sinagoga Ner Tamid del Sud epitomize Reconstructionist values. They add a dynamic voice to our already diverse movement. Together, we will work towards a vibrant Jewish future."
As an affiliated congregation, Sinagoga Ner Tamid del Sud will have access to the broad range of services and resources RRC/JRC offers to all the communities it serves. It will have a voice in shaping the movement's decisions and policy.
Sinagoga Ner Tamid del Sud is the first synagogue to openly function in Calabria in 500 years. During the time of the Inquisition, Jews either fled the area, were forced to convert, or practiced Judaism in secret. Serrastretta was originally founded by Jewish families who had fled nearby villages.
The congregation counts about 80 families as members and draws from the southern mainland, as well as Sicily and the Aeolian Islands. Many members are Italians whose ancestors were forced into conversion centuries ago and are now rediscovering lost or hidden Jewish roots, identifying as bnei anusim, a Hebrew term meaning "children of the forced ones."
The synagogue and its sister organization, the Italian Jewish Cultural Center of Calabria, are led by American-born Rabbi Barbara Aiello, who is believed to be Italy's sole woman rabbi. Rabbi Aiello's father and grandfather hailed from Calabria and she has made it her mission to return to their birthplace and offer Italian Jews a liberal Jewish option. Rabbi Aiello's welcoming and non-judgmental approach to interacting with all people aligns with the Reconstructionist ethos.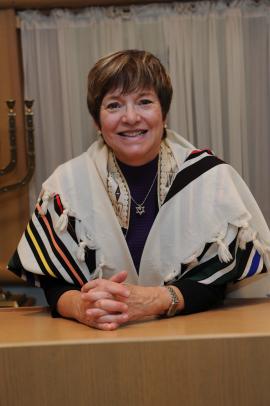 "The Reconstructionist movement offers so much to its congregants, its rabbis and to the Jewish world," said Rabbi Aiello.  "In the 11 years since our dedication, we have worked hard to extend the hand of Jewish welcome to Jews of all backgrounds and it was our dedication to Jewish diversity that led us to make formal application to affiliate with the Reconstructionist movement. As a congregation made up of bnei anusim whose ancestors were forced into adult baptism centuries ago, we feel a particular affinity to the principles upon which Reconstructionist Judaism is based."
Dominick Porto, the congregation's president, said "this Jewish community is truly the 'eternal light' of Southern Italy. I have seen the congregation grow in numbers and in strength as members and friends gather to celebrate a Judaism that is open to all and welcomes everyone. Because the Reconstructionist movement supports tradition and applauds innovation, each new congregation can make Judaism more relevant in a changing world."