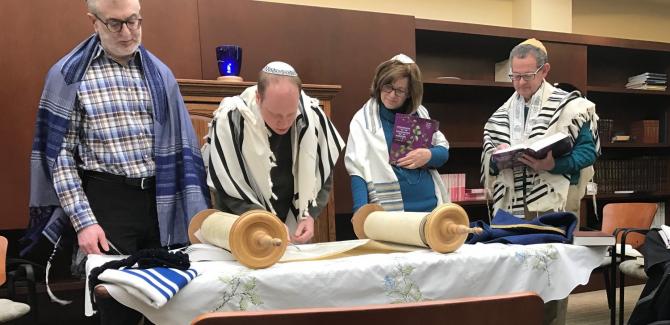 What can you expect at the only Reconstructionist congregation in St. Louis and the entire State of Missouri?
Expect to be warmly welcomed into our community regardless of ability, age, race, sexual orientation, family status, or level of knowledge. Because we see ourselves as embodying a spark of the divine (b'tzelem Elohim, cf. Genesis 1:26), we understand that every person has infinite worth; therefore, no human being should be treated merely as an object, and all should always attempt to see the humanity in those we encounter.
Expect to enjoy lots of music and singing at our Shabbat and holiday services.
Expect to learn new ideas and perspectives from our intellectual discussions every week that deal with Torah, ethics, current events and cultural topics.
Expect Shabbat and holiday observances and services that are an expression of liberal Judaism, partway between Conservative and Reform. If you don't know Hebrew you'll be fine, because everything is transliterated.
Expect to enjoy potluck dinners to celebrate the first Shabbat of each month. Good food and great company are a wonderful combination.
Expect a Reconstructionist approach to Judaism within which we are constantly working to integrate Jewish tradition, music, culture and art with contemporary America.
Expect the freedom to embark on or continue your Jewish journey at your own pace and on your own terms.
Rabbi Janine C. Schloss
rabbijaninecschloss@gmail.com
Rabbi Lane Steinger, Emeritus
LaneSteinger@gmail.com
Mailing address: PO Box 16171, Clayton, MO 63105.