Save the Date! Convention 2022
Please mark your calendars for the next Reconstructionist Movement Convention, which will be produced jointly by Reconstructing Judaism and the Reconstructionist Rabbinical Association in 2022. Convention will take place March 23-27, 2022, in the Chesapeake area, close to Washington D.C. Join us to learn, pray, sing, dance, eat and network with other Reconstructionists from all over the world. More information to follow! #Reconvention
---
Rooted and Relevant: Reconstructing Judaism in 2018 was the largest gathering of Reconstructionists in history. Rooted in a love of evolving and growing Torah, some 750 rabbis, lay leaders, young people, elders, teachers and performers displayed the talent and relevance of our movement in these times, strengthening each other and our community of communities.
Convention Program
View/download the entire convention program: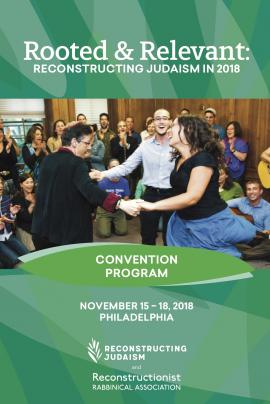 We would like to thank everyone who attended the 2018 Convention and helped make it such a wonderful experience, including our sponsors, donors and vendors, volunteers, service leaders, panelists, workshop leaders, the Convention steering committee, advisory committee and local committee, the board of Reconstructing Judaism, and the staff who worked so tirelessly to ensure that everything went smoothly! We would also like to thank the staff of the DoubleTree Hotel in Center City, Philadelphia for stretching to their limits in order to host the largest event they've ever hosted.