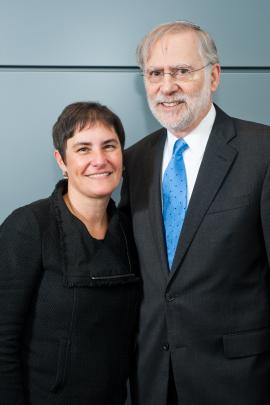 There's a unifying theme to David Roberts' life: Actively make the world a better place.
That's been Roberts' North Star, whether it's by working on civil rights issues in Cleveland in the 1960's, volunteering with the Peace Corps in Uruguay, serving as a Jewish communal professional in Portland, Ore. and Boston, or teaching middle school in the suburbs of St. Louis. Through his decade-plus of leadership of the Reconstructionist movement, he has found a cause to channel many of the passions that drive him: social justice, strong local communities, teaching and learning, and ensuring a vibrant future of North American Jewry.
On September 1, Roberts officially became chair emeritus of the Reconstructionist Rabbinical College and Jewish Reconstructionist Communities' Board of Governors. He served as board chair for 11 years, during which time the movement—-and American Jewish organizations as a whole—-experienced tectonic changes and made significant advances. Now, as he shifts into a new role, Roberts remains as committed as ever to championing a groundbreaking and inclusive vision of Judaism.
"During my chairmanship, I have received great intellectual and spiritual nourishment. I have always felt that we could tackle changes in our path," said Roberts, calling his leadership a great honor.
"I remained in this role for 11 years because I felt strongly that we were making a difference and our organization was having an impact," he said. "I've experienced real personal growth and met many people who have enriched my life. And it has offered real synergies for my wife, Sue Fischlowitz, and me in our deepening engagement in our Jewish lives."
"At a time when many bemoan the state of our society, I've been fortunate to be part of an endeavor that is part of the solution," said Roberts, noting he's particularly gratified that he's played a role in shaping the next generation of rabbinic leaders.
Roberts, a resident of Clayton, Mo., has served on RRC's Board of Governors since 1998, when he was invited to join by RRC's then-president, Rabbi David Teutsch, Ph.D. Roberts became chair in 2006. His leadership has been hailed as transformational by Seth Rosen, his successor, as well as by Rabbi Deborah Waxman, Ph.D., '99, who became RRC's president during Roberts' tenure. Roberts has worked closely with Rosen and stated that he "will be a wonderful board chair. He has the intellect and experience to lead the movement, and will be supported by an extraordinary and thoughtful group of leaders."
Rabbi Waxman emphasized that Roberts "cares deeply about the democratic nature of the Reconstructionist movement, especially as it is expressed in the ongoing partnership between lay leaders and rabbis. He takes seriously the Reconstructionist mandate that every generation is obligated to create the Jewish life and community we want to see. Our movement is a better movement because of his leadership. I am a better rabbi, a better leader and a better person because of my opportunity to know him."
Roberts helped steer RRC through the tumultuous Great Recession. In the late 2000s, the organization successfully completed a $50 million fundraising campaign. He was aided in this by a team that included his predecessor Chair Emeritus Don Shapiro, and Vice-chair Susan Beckerman. Roberts played a significant role in negotiating and implementing RRC's merger with the Jewish Reconstructionist Federation (JRF), the movement's congregational arm. The Board of the movement feels strongly that putting rabbinic training and community engagement under one roof has strengthened both missions. This integration has enabled the whole organization to be an incubator for the next big ideas in Jewish life and to foster Jewish experiences for a wider range of people.
Roberts led RRC through a presidential transition when, in 2014, Waxman succeeded Rabbi Dan Ehrenkrantz,'89. The first woman to head both a rabbinical seminary and a congregational organization, Waxman has been hailed as a visionary leader. Under Waxman's leadership, the organization has built upon past successes and emphasized inclusion, pluralism and bringing a moral religious voice into the public square.
Roberts explained that his chairmanship had three distinct phases. "The first was chairing the board of the RRC. The second was the period of thinking through and negotiating the merger of the rabbinical college with our congregational organization. And the third began after Rabbi Ehrenkrantz announced his intention to step down from the presidency of the college and the movement. At that point I felt it was important to provide some stability in leadership during the presidential transition. I have felt privileged to work with the new president, Rabbi Waxman, whom I deeply respect and admire and from whom I have learned much."
Roberts holds a bachelor's degree in sociology from the City College of New York, a master's degree in community organization from Case Western Reserve University and, 25 years later, a master's degree in education from Boston College.
In the early years of their marriage and as young parents, David and Sue embarked on a Jewish journey to find a community that fit. In the late 1980's, while living in Boston, friends invited the couple, who by then had three young sons, to attend services at Shir Hadash in Newton, the first Reconstructionist congregation either had attended. As soon as the couple walked in, they saw a woman with a toddler on one hip, holding a siddur in her other hand. The woman turned out to be Rabbi Barbara Penzner, '87, who would have a strong influence on David and Sue and their embrace of Reconstructionist Judaism.
Not only did the congregation seem more child-friendly, family-focused and intellectually stimulating than other congregations they had visited, but there was something in the warmth of the community that really spoke to them.
"The Reconstructionist service seemed open and available," Roberts said in a 2006 interview with the St. Louis Jewish Light. "There was a certain degree of creativity in the Reconstructionist service."
The couple would go on to be among the founders of Congregation Dorshei Tzedek in Newton, Mass. and Shir Hadash Reconstructionist Community of St. Louis. Roberts said that he's particularly committed to the Reconstructionist approach to the rabbinic-communal partnership, which he sees as central to shaping communities that are deeply informed about Jewish tradition and democratic in practice as well as in theory.
Roberts is neither dismissive nor overconfident about the challenges facing Reconstructionist Judaism and the Jewish community as a whole. He believes philosophically that a Reconstructionist approach offers the best hope for a vibrant Jewish future, and, from an organizational perspective, that the Reconstructionist movement is well-positioned to bring its message into the broader arena of communities of faith.