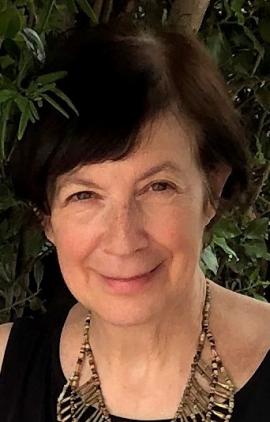 Rabbi Donna Kirshbaum

 [Update, March 3, 2020: This article was written and published before the Israeli elections of March 2, 2020. At the time of this update, final results of the March 2 Israeli election were still being tallied. Yet they appeared to show Israeli Prime Minister Benjamin Netanyahu and his Likud Party in a potentially stronger position to form a viable coalition government.]
Rabbi Donna Kirshbaum has never been one to shy away from a challenge. She has operated a dairy farm in the Missouri Ozarks, eked out a living as a classical cellist, enrolled in the Reconstructionist Rabbinical College in her 50s and started a new life in Israel in her 60s.
Now a member of Israel's largest grassroots movement, she is pursuing a goal that's eluded the world for a century: a negotiated political settlement between the Israelis and Palestinians.
Sounds impossible, right?
It doesn't take a cynic to equate Mideast East peace with a dream that's repeatedly given way to continued rounds of violence. Recent developments have inspired little optimism. The power of the left — the once prolific peace camp — continues to shrink in Israeli electoral politics. The Democratic Union, a combination of left-leaning parties that includes Israel's historic Labor Party, garnered just five Knesset seats in the September elections, held less than six months after the April elections, with neither round resulting in a government coalition. And judging by headlines and worldwide reactions, it seems fair to say that relatively few hopes were raised when on Jan. 28, U.S. President Donald Trump released his long-touted Mideast peace plan. Palestinian Authority President Mahmoud Abbas, for his part, immediately rejected it.
There is also the highly limiting fact that Israel hasn't had a more than a caretaker government in nearly a year — the result of two inconclusive elections leading to an upcoming third attempt on March 2.
Nevertheless, when talking by video conference with Kirshbaum, the idea of peace doesn't sound impossible. In fact, she can be quite convincing. Like a passionate professor motivating a student about a particular subject, Kirshbaum — with her sound use of argumentation and utter conviction — can make you believe, even if just for a moment, that profound change of this scope is achievable. It's exactly when the politicians are stuck that citizens must act, argues Kirshbaum, who lives in the southern Israeli town of Omer in the Negev Desert, just outside of Beersheva.
"There is no conflict in the world that is so unique that it cannot be solved," insists Kirshbaum, quoting Tel Aviv University Professor Daniel Bar-Tal. "As Nelson Mandela said, 'It is only impossible until it's done.' "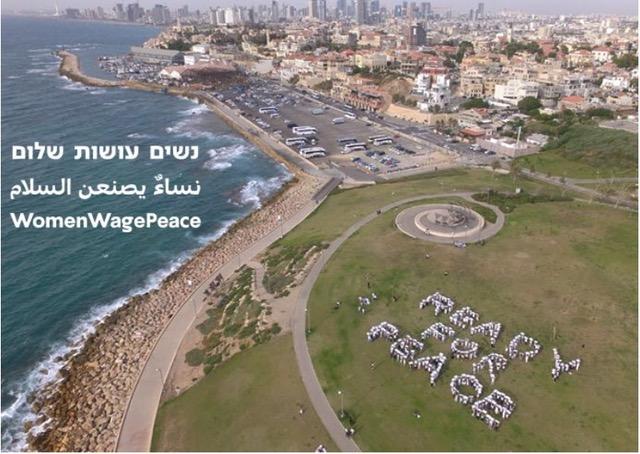 Hundreds of WWP members form a human sign at Yaffo Beach, visible from the air as US officials arrive in Israel in 2017.

'Women Are More Likely to Privilege Interconnectedness'
Kirshbaum isn't alone. She is part a movement of some 40,000 others, mostly Jewish and Arab Israeli women — a core activist with Women Wage Peace. Nearly from its inception, Kirshbaum has helped organize mass protests, embarked on fundraising missions, as well as shaped the group's statements and other communications.
Women Wage Peace is an Israeli grassroots organization formed in the wake of the 2014 summer conflict between Israel and Hamas, known in Israel as "Operation Protective Edge," or the 2014 Gaza War. It raged for seven weeks, claiming the lives of more than 70 Israelis, including six civilians. More than 2,000 Palestinians died in the conflict, more than half of whom were civilians, according to the BBC.
The organization differs from other Israeli peace groups, past and present, in several significant ways. The first is that while the movement is focused on advancing a negotiated agreement with the full participation of women, it vigorously eschews any position on what that agreement should look like. Kirshbaum says this approach enables a broad coalition of members with different politics to coalesce around one goal.
Another difference has been the robust participation of Arab-Israeli women. While current figures are not available (the organization is due to update its demographics data soon) Kirshbaum estimates that some 15 percent to 20 percent of the movement's members are native speakers of Arabic. At all major events and in its signage, video-captioning, newsletters, announcements and public statements, both Hebrew and Arabic are used.
Since Israeli law currently prohibits non-citizens from membership in an Israeli nonprofit, Palestinian women living in the West Bank are precluded from joining. Still, the group continues to meet as often as possible with those who live under Palestinian Authority jurisdiction. Connecting with women who live in the Hamas-controlled Gaza Strip is far more challenging.
Another difference is the movement's insistence on a flat (non-hierarchical) leadership structure and decision-making process.
Women Wage Peace has also mobilized its numbers and utilized social media to stage headline-grabbing events. For instance, in 2016, more than 30,000 women, men and children participated in its March of Hope, which began in the far north at Israel's border with Lebanon and ended in Jerusalem with a rally in front of the prime minister's residence. One video clip from that march has been viewed more than 29 million times on Facebook and YouTube, notes Kirshbaum. An Al Jazeera English video of a 2017 mass action has been viewed more than 9 million times.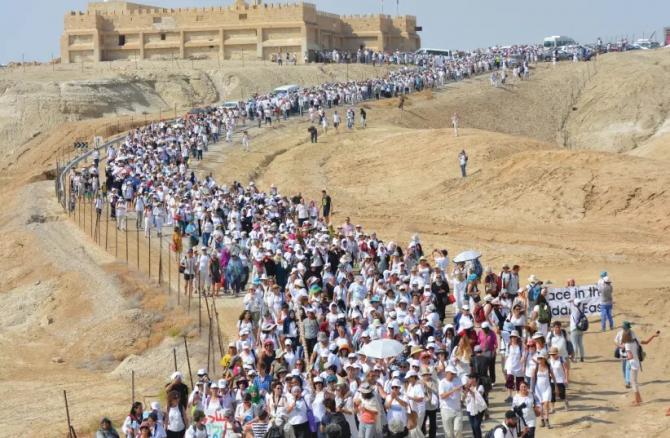 March of Hope in 2016

Yet clearly, the most salient feature of Women Wage Peace is its name's first word: women. Though men can be members — they comprise about 10 percent of membership — the organization is led and administered by women. Former Israeli Prime Minister Golda Meir notwithstanding, women have largely been excluded from the halls of power throughout the history of the Arab-Israeli conflict. Women Wage Peace is dedicated to full representation of Israeli and Palestinian women in all aspects of decision-making about war, peace and security.
In fact, one of its current goals is to have the U.N. Security Council Resolution 1325 fully implemented in Israel. The resolution, which was passed by the United Nations in 2000 and became part of Israeli law in 2005, recognizes that "women's full involvement is critical to every aspect of achieving and sustaining peace and stability" and urges an "increase in the incorporation of gender perspectives" by all parties to violent conflict.
Kirshbaum says the movement's founders "came to realize that women are the largest under-represented part of the population in all matters relating to peace and security. In our understanding, based on what we have learned from the dozen training lectures on 1325 that we organized last summer, gendered power relations provide the very infrastructure that enables the conflict to continue."
The organization's theoretical underpinnings come in part from the research and writing of Carol Gilligan, an American Jewish psychologist who has taught at Harvard University, Cambridge University and the New York University School of Law. Gilligan's work stresses that in most Western societies, girls' psychological development differs sharply from boys. In her best-known work, In a Different Voice, Gilligan first asserted that most women have a markedly different moral voice than men — one that places a greater emphasis on care rather than abstract notions of justice, on responsibilities rather than rights.
In an essay explaining the relevance of Gilligan's work to Women Wage Peace, Kirshbaum wrote that "girls generally have more time than boys to establish both a richer vocabulary and a better-developed internal foundation for an authentic voice before it is lost to the demands of patriarchy."
Further explaining these ideas, Kirshbaum says "while many cultures tend to resign themselves to aggression and violence as givens in human affairs, they can more helpfully be seen as artifacts of patriarchy, of a compartmentalized, binary thinking. Women, by virtue of their later recruitment into such a way of thinking, are more likely to privilege interconnectedness, compromise and caring about specific human beings and their futures, rather than trying to right the wrongs of the past."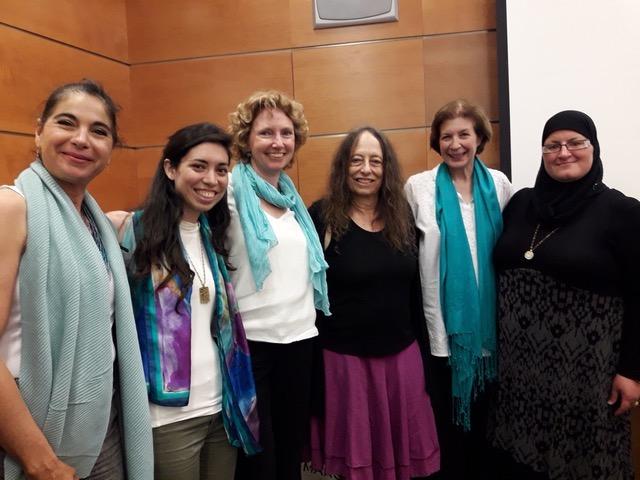 Ben Gurion University panel with Rabbi Donna Kirshbaum (2nd from right), flanked by Carol Gillian to her left and Ghadir Hani to her right.

Kirshbaum expresses gratitude that Gilligan has become a staunch supporter. For instance, Gilligan joined the organization's Journey to Peace in 2017 and then spoke about the experience in dialogue with Rabbi Sir Jonathan Sacks, a noted British author, theologian and Orthodox leader, at the 92nd Street Y in New York City.
'I Wanted to Have Some Kind of Relationship With God'
Kirshbaum's road to the rabbinate and Middle East peace activist has certainly been a winding one.
She grew up in suburban Philadelphia in a secular Jewish home where Passover seders were conducted in Yiddish, since she and her siblings attended a Jewish folkshul, rather than a traditional synagogue Hebrew school. As a teen, she read classic Yiddish writers like I.L. Peretz in the original.
Despite the richness of the experience, the Swarthmore College graduate felt a hunger for a more spiritual, even traditional, expression of Judaism.
"I was the black sheep of the family," she says. "I wanted to have some kind of relationship with God. I didn't know how to do that Jewishly."
When she finally had the chance to help found a synagogue — Baltimore's Bolton Street Synagogue, where her youngest son is now a board member and Sunday-school teacher — she sent her parents a seven-word postcard saying, "G-d forgive me, I've joined a shul."
After college, Kirshbaum spent several years teaching high school Greek and Latin before leaving to pursue her dream to become a professional cellist. As unlikely as it sounds, after studying with the cellist of the Amadeus Quartet in London, she did a stint co-owning and operating a dairy farm in Missouri's Ozark Mountains for four years, an experience that gave her a profound appreciation for Judaism's agricultural basis and shedding a different light on many biblical and talmudic passages.
She spent the bulk of her pre-rabbinic professional life, however, as an educator in classics in Baltimore, where she raised her sons, now 33, 38 and 41. She often considered attending rabbinical school, but logistics and financial considerations kept her from making another leap. Many of the same factors prevented her from pursuing another dream: moving to Israel.
But one day, she happened to overhear one woman say to another, "I have two choices: to end up as a grateful old woman or a bitter one."
After hearing that, she decided that she could handle rabbinical school and whatever financial challenges come her way. When she started, Kirshbaum had one child about to start medical school, another in college and one still in high school. Originally, she chose the Reconstructionist Rabbinical College for practical reasons; it was just close enough to commute daily from Baltimore. However, it didn't take long for her to embrace a Reconstructionist approach.
"Reconstructionist Judaism gave me permission to be creative within our tradition, to be creative to the point of being improvisational," she says.
Today, her commitment to Reconstructionist Judaism is evident. She serves on the movement's Joint Israel Commission, a diverse body of individuals from across the movement who represent a wide range of politics. Part-think tank, part-advisory committee, the body develops resources and counsels the movement on positions regarding Israel and the Israeli-Palestinian conflict. Kirshbaum is a member of the Reconstructionist Rabbinical Association.
Rabbi Nancy Fuchs Kreimer, Ph.D., was one of Kirshbaum's professors and mentors at RRC.
"When Donna was a student, she was an extraordinary person to have in class," recalls Fuchs Kreimer, founding director of RRC's multifaith studies program. "She knew a lot about pedagogy and had a tremendous ability to lead from the student's seat. It was a joy to have her around, someone so smart and engaged."
After graduating in 2008, Kirshbaum spent five years leading String of Pearls, a Reconstructionist affiliate in Princeton, N.J. According to Fuchs Kreimer, Kirshbaum emerged as an interfaith leader there, building ties between Jewish and Muslim communities.
'Peace Is Possible When Women Take the Lead'
Kirshbaum enjoyed a decades-long musical friendship with Dr. Lechaim Naggan, a former deputy surgeon general of the Israel Defense Forces and a longtime professor of epidemiology at Ben-Gurion University of the Negev in Beersheva. He also taught for many summers at Johns Hopkins University in Baltimore. For years, they played together in an amateur string quartet. In 2013, the longtime friends married. Kirshbaum gave up her pulpit and made aliyah. (She and her husband still spend part of every summer playing chamber music in Vermont. Last year, she began a summer pulpit at Bethlehem Hebrew Congregation in New Hampshire.)
Once she had settled and improved her Modern Hebrew, beginning to learn Arabic as well, she searched for a new mission.
"When she went to Israel, I knew she was not just going to sit around and be retired. She is way too energetic and way too passionate," says Fuchs Kreimer. "She's taken on an enormously difficult issue — something that the faint of heart wouldn't even touch. She does that with the force of her personality. I would guess that Women Wage Peace is very lucky to have her land with them."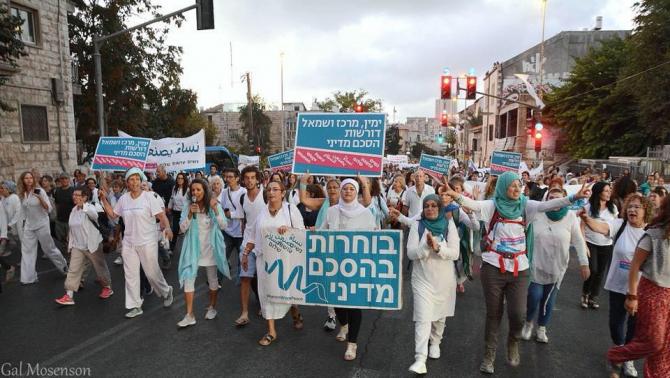 Woman Wage Peace demonstration. Photo credit: Gal Mosenson

"Operation Protective Edge" erupted less than a year after Kirshbaum emigrated. Soon after its conclusion, some 1,000 Israeli women gathered at Sapir College in Sderot, a Negev town near the Gaza border that is frequently bombarded with rocket fire.
"Not all of them identified as activists, but every one of them knew the time had come to get off the sofa and make their message heard. The paradigm that localized wars can bring peace is false; in our region, wars only lead to further violence and suffering. Yes, peace is possible when women take the lead," she says.
Kirshbaum wasn't there for the birth of Women Wage Peace. She read about the gathering and met with activists about two weeks later, planning for the group's first public action.
"At the first meeting I went to, a religious Jewish woman shared the program with a completely secular one; both made it clear that striving for peace does not belong to one political side or the other. I thought, this is for me, this is exactly where I belong," she affirms. "I haven't had a moment these past five years when I haven't felt that this is exactly where I need to be and what I need to be doing."
Women Wage Peace made its name in Israel and internationally by organizing mass marches and amplifying those actions via traditional and social media. More recently, it has shifted its focus towards a legislative agenda.
The group has drafted, and is now lobbying for the passage of, a bill called "Political Alternatives First." During security crises as well as more routine periods, the proposed law would require Israeli decision-makers to examine political alternatives, with input from civil society, prior to reviewing resorting to military options. It also would require the allocation of resources for examining and developing alternatives to military responses.
"Just as citizens are expected to enlist and support the country in times of war whether on the battlefield or the home front, so decision-makers are expected to leave no stone unturned in order to prevent war," according to the preamble to proposed legislation.
In an emergency, when time is of the essence, couldn't this bill, if passed, hamper the Israeli government and military's ability to keep its citizens safe?
For Kirshbaum, as for many Israelis, the threat of violence to civilians is all too real. The last thing she wants or hopes is to put Israeli soldiers or civilians at risk.
She points to a time, not long after she moved to Omer, that shrapnel from a rocket that had been exploded by the Iron Dome missile-defense system fell quite close to her home, killing a Bedouin girl. When the sirens sound, she says, "it is difficult for my husband and me to get to our shelter in time. I don't support anything that would preclude military options or hamper true defense. I don't think there is a Jewish, Arab or Druze family in Israel that hasn't been touched by loss, trauma or PTSD."
Kirshbaum and her fellow activists believe that additional safeguards and processes — not to mention women in the room — could prevent escalation into full-fledged violence without preventing the IDF from taking necessary actions.
"According to State Comptroller's Reports issued after every major conflict, we know that from the Yom Kippur War to the Gaza War, political alternatives were not considered first," she says.
Many lawmakers from across the political spectrum have expressed support for the proposal, she adds. Yet Kirshbaum acknowledges that the year-long impasse in the national government has hampered its lobbying efforts.
"I would never call this strange period without a fully constituted government — a very tense and disturbing period in Israel — a golden opportunity," states Kirshbaum. "But at least it has given us a chance to think about how to reboot 1325, to build greater grassroots support for our bill, to put various new internal structures in place in the movement and to share our messages, from parlor meetings to nationwide events, with more and more Israeli women and men."