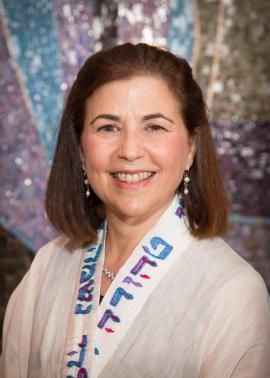 Reconstructing Judaism awarded its Auerbach Innovation Launch Grant to Rabbi Shelly Barnathan, '15. The award epitomizes the organization's commitment to fostering entrepreneurial skills in religious leaders and exploring new models of Jewish community.
The yearlong $20,000 grant will help to fund Or Zarua, a "co-constructed" spiritual community in suburban Philadelphia that aims to meet the needs of baby-boomers and empty-nesters. "Or Zarua" means "light is sown," a reference to Psalm 97. Rabbi Barnathan's project was selected by a grant review board consisting of thought leaders representing Reconstructionist Judaism as well as other denominations and institutions.
"We are greatly honored to be the recipients of the Auerbach Innovation Launch Grant," said Rabbi Barnathan. "This generous [award] will allow our new spiritual community to lift up the qualities, skills and talents of each member, allowing the light of each person to shine."
By meeting for coffee and holding more than 100 "holy conversations" with some 80 empty-nesters, Barnathan has been able to identify what many boomers are seeking in a holy, Jewish community. Or Zarua represents an attempt to sustain a meaningful, robust, caring Jewish community outside of the synagogue model.
"A lot of innovation is rightfully geared towards millennials. However, our empty-nesters are also treasures of the Jewish community," said Cyd Weissman, Reconstructing Judaism's assistant vice president for innovation and impact. "It is crucial that, as a larger Jewish community, we pay attention to the needs of this group, which offers so much wisdom and spiritual energy."
The Auerbach Entrepreneurial Innovation Launch Grant highlights the deep commitment of Reconstructing Judaism to innovation, and to shaping a strong and positive Jewish future. The organization and its leadership recognize that existing synagogue models work well for some, but that others need new pathways to meaningful, rich Jewish experience. The College stressed that rabbis today must possess entrepreneurial skills; to this end, RRC students are required to complete one hands-on course in entrepreneurship.
The Auerbach grant program was created in 2016 to support bold experiments that seek to reconstruct Jewish experience and engagement for the 21st century. The program funds pilot projects that have the potential to grow and be replicated. Current rabbinical students and recent graduates (from 2015 or later) are eligible for this program.
Recipients must raise or generate $10,000 by the project's conclusion. This condition ensures that recipients learn valuable fundraising skills and can develop a financial model to sustain projects. The inaugural prize was awarded to RRC student Ariana Katz to fund her work on Kaddish, a podcast about death, dying and mourning from a Jewish perspective.
Students and recent graduates can also apply for $500 to $2,000 Ignition Grants to fund small-scale projects. Before winning this large prize, Barnathan was twice awarded Ignition Grants. A year ago, she received $2,000 to initiate a project teaching Arabic to sixth-grade Hebrew-school students at a Conservative synagogue outside Philadelphia. Earlier this year, while participating in the Reconstructionist Clergy Incubator, Barnathan received $2,000 to conduct the research that would lay the groundwork for Or Zarua.
In her application, Barnathan described Or Zarua as a "relational, co-constructed community in which the rabbi takes much time with each community member to learn and know deeply the background, skills, talents, interests and spiritual goals of each member. This is a community based on relationships."
For Barnathan, it is vital to connect people and build strong relationships. "I find that people want to make truly personal connections in smaller micro-communities. People want to offer their gifts and talents in deep and spiritual ways."
Throughout her interviews, Barnathan found that many empty-nesters who had belonged to a congregation for decades felt neglected.
"Many of the individuals I have met have told me that they are missing a personal touch from their rabbi, feeling that the rabbi does not really 'know' them or take a genuine interest in them," Barnathan wrote in the grant application. "Baby-boomers and empty-nesters are often sidelined and 'invisible' at the very synagogues to which they have been loyal for so many years. The continued devotion to and financial support of synagogues by baby-boomers/empty-nesters is often taken for granted."
Continued Barnathan: "Boomers/empty-nesters are looking for deep, meaningful alternatives to the traditional synagogue that is leaving them by the wayside."
Other participants are not looking to leave their longtime communities but for to supplement them.
"These days, people belong to many communities.  So people can belong to the Or Zarua community and other Jewish communities at the same time.  It is not an all-or nothing proposition," said Barnathan. "For some, Or Zarua is their main community, and for others, it is a community that adds additional meaning in their lives in which they may also be part of another Jewish community," she added.
In its first year, Or Zarua has held a variety of programs, such as Shabbat services in members' homes that featured prayer, chant, Torah study, poetry, mindfulness meditation and socializing. Other programs include Women's New Beginnings Circles, including yoga, movement, song, poetry and Jewish meditation, as well as a Tikkun Olam Engagement Action Group.
Like any emergent community, there are many questions in the early stages, such as: How closely will this community resemble a synagogue? Will it need a home of its own? What financial model will sustain it? (For now, it is charging both for à la carte programming and for sustaining memberships.)
Weissman said she expects Barnathan and Or Zarua to teach the Jewish world "about process and product."
The process aspect relates to Barnathan's entrepreneurial, market-research approach, as well as her laser-like focus on building relationships. As for the product, many around the Jewish world will be interested to see how an alternative synagogue model focusing on empty nesters takes shape.
"Relationships are built face-to-face, inviting and honoring people's stories and questions; those stories and questions become the basis for creating the program; for connecting people to one another, deepening relationships, and for identifying the talents that people have and want to share with others," said Weissman. "The unit of currency for a spiritual community is more than a great spiritual leader. It is building upon people's yearning to connect to others and to Jewish learning, teaching and action."
If you are interested in supporting Reconstructing Judaism's work on innovation and entrepreneurship, click here to donate online or call Kathryn Goldberg, our development assistant, at 215-576-0800 ext. 163.