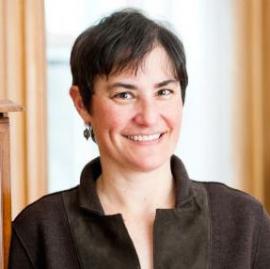 Rabbi Deborah Waxman, Ph.D.

Reconstructing Judaism's president, Rabbi Deborah Waxman, Ph.D., has been hailed as an LGBT Icon as part of LGBT History Month. Waxman is the first woman and first lesbian to lead a major Jewish denomination and rabbinical seminary.
The movement led by Waxman — and founded by Rabbi Mordecai Kaplan and his disciples a century ago — has played a pioneering role in making Jewish life more embracing and inclusive. For example, in 1985, Reconstructionist Rabbinical College was the first rabbinical school to admit an openly gay student.
In a recent article about LGBT History Month, Waxman told the Washington Blade that she:
didn't come out until she was into her 20s. When she said she wanted to be a rabbi, her mother was worried. Because, at that time, there were so few women rabbis. "When I came out to my Mom, she was really worried. She said, 'It was hard enough being a woman,'" Waxman said. "How would I ever be a rabbi as not only a woman but a lesbian?"
Years later, when she was installed in her leadership positions, Waxman told her Mom: "It worked out OK."
Her parents were immensely proud, she said.
In 1994, a Missouri high school teacher named Rodney Wilson advocated for the creation of a month to celebrate the contributions of LGTB individuals to American and world history.
According to Equality Forum, the nonprofit that since 2006 has overseen LGBT History Month, the initiative celebrates the achievements of 31 lesbian, gay, bisexual or transgender Icons, both living and deceased. Each day in October, a new LGBT Icon is featured with a video, bio, bibliography, downloadable images and other resources. Waxman will be featured on Oct. 30.
According to its website, every year Equality Forum solicits nominations from regional, state, national and international organizations, activists and the public. LGBT History Month co-chairs Anne Balay and Ken Lustbader review all nominations and recommend the annual Icons.
Other 2020 icons include poet Emily Dickinson; actress and comedian Kate McKinnon; and hip-hop artist Lil Nas X. Previous Icons include tennis legend Billie Jean King, critic Susan Sontag, composer Leonard Bernstein, activist Harvey Milk, photographer Annie Liebowitz, as well as Leonardo da Vinci and Alexander the Great.
Watch the 2020 LGTB History Month kickoff event here: https://equalityforum.com/event/equality-forum-2020-awards-celebration