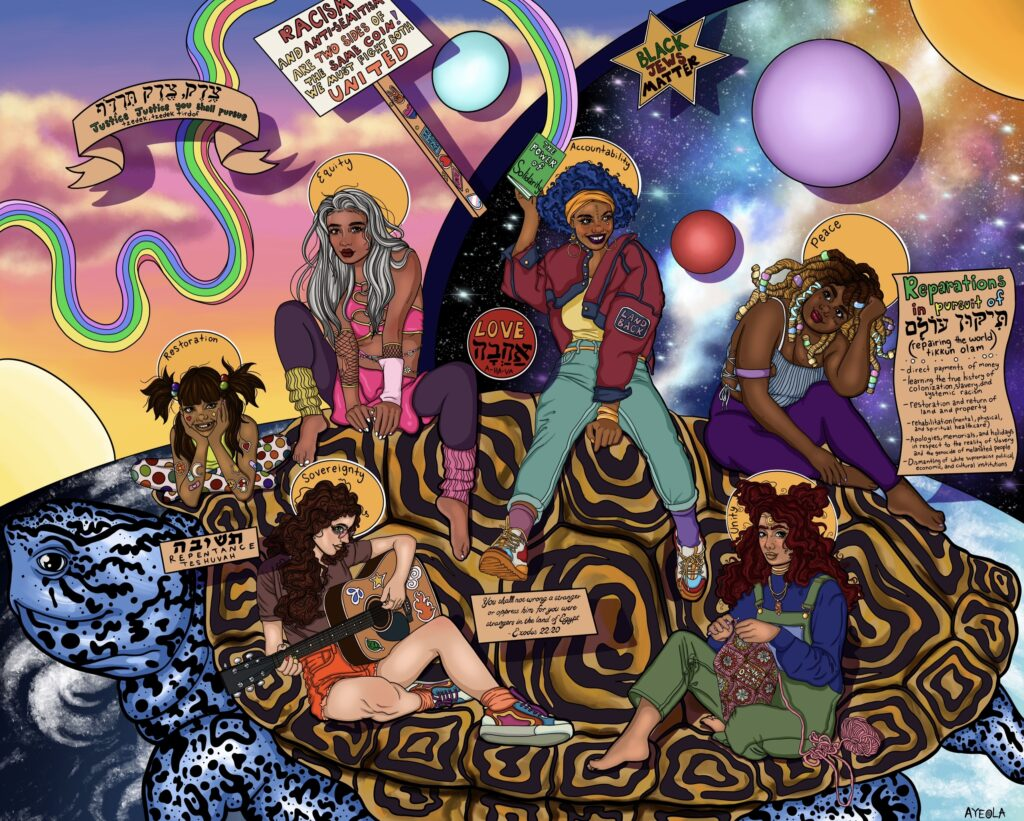 The Reconstructionist movement has adopted a Resolution on Reparations, making a commitment to "supporting and advocating for institutional, local and federal legislation and policies that specifically address the need for reparations." 
The resolution is a call for communal and national teshuvah, an opportunity for repentance, utilizing a Jewish framework to speak
with moral authority on an issue of profound importance to American society and global efforts for justice.  
Specifically, the resolution calls for the movement to "work for a national reckoning in the United States" and calls on all groups affiliated with the movement, including communities located outside of the United States, "to engage in deep reflection on the ways we have participated in or benefited from racial injustice." The resolution acknowledges generational harm and trauma inflicted upon BIPOC (Black, Indigenous, People of Color) communities and the myriad ways American prosperity was "built on oppression and white supremacy."  
The resolution urges the 118th Congress to pass House Resolution 40, the Commission to Study and Develop Reparation Proposals on a national scope involving the federal government. HR 40 was first introduced in 1989 by the late U.S. Representative John Conyers in 1989. The measure still has not received a full vote.  
"With this resolution, our organization and, our communities, are drawing on Jewish teachings on accountability and repair and are heeding the voices of people of African descent. We are taking a moral stand, calling upon our American government and our society to reckon with, and begin to atone for, our troubled history. This includes 400 years of chattel slavery and the legacy of Jim Crow as well as mass incarceration and the persistence of systematic racism," said Rabbi Deborah Waxman, Ph.D., president & CEO of Reconstructing Judaism.   
 By design, the democratic, values-driven process leading to the resolution's passage took close to two years. It involved the primary bodies of the Reconstructionist movement, including Reconstructing Judaism, the central organization of the Reconstructionist movement, the Reconstructionist Rabbinical Association and the nearly 100 affiliated Reconstructionist communities. In the summer of 2021, Reconstructing Judaism held a movement-wide day of learning on the issue of reparations. In March 2022, at Reconstructing Judaism's Convention, the Tikkun Olam Commission first introduced the draft resolution, inviting discussion in the larger movement. In the ensuing months, many Reconstructionist communicates examined the resolution and explored a range of moral, historical and practical issues.
At the Dec. 11 meeting of the Plenum, representatives of Reconstructing Judaism's affiliated congregations and havurot overwhelmingly approved the measure. In early 2021, the Reconstructionist Rabbinical Association — a separate nonprofit from Reconstructing Judaism — led the way in passing its own reparations resolution. Following the Plenum vote, the RRA's board endorsed the language of Reconstructing Judaism's resolution. The last step came Jan. 22 when Reconstructing Judaism's board of governors voted to adopt the resolution. 
The Union for Reform Judaism adopted a resolution on reparations in 2019.
The work on the resolution has been part of the organization's overall work on racial justice. In June 2021, Reconstructing Judaism adopted a set of 11 racial justice commitments, guiding the policies and programming of the movement. Those commitments are helping to bring to life a strategic plan that calls on the organization "to join "join and lead Jewish efforts to dismantle systemic racism, and to advance racial diversity, equity, and inclusion within the Reconstructionist movement."