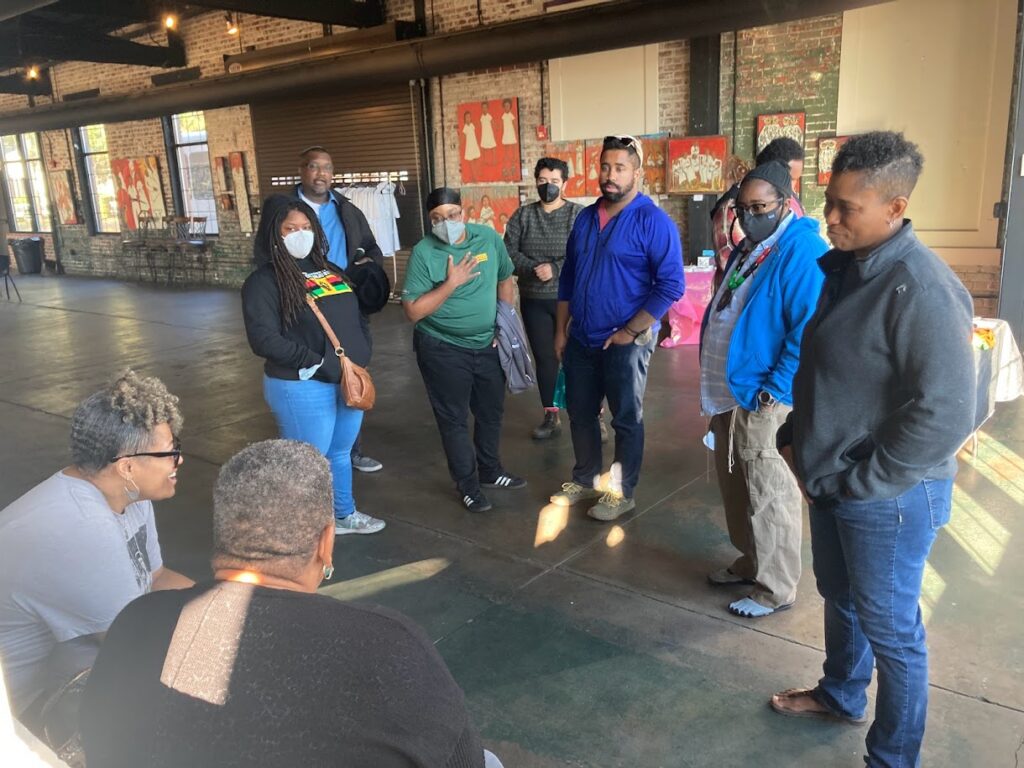 Amanda Beckenstein Mbuvi, Ph.D, in late October found herself in an Atlanta hotel with 11 other Jews of African descent. The group was just embarking on a pilgrimage to, among other places, the National Memorial for Peace and Justice and neighboring Legacy Museum: From Enslavement to Mass Incarceration, which tells the American story of slavery, lynching, Jim Crow segregation and mass incarceration, while simultaneously celebrating resistance, the struggle for justice and hope. 
Mbuvi wasn't sure she was ready for such a heavy experience and all the emotions it might bring to the surface. Then the group facilitator, Adam W. McKinney, asked an icebreaker question that caught Mbuvi totally by surprise. 
What do you love about being Black and Jewish? 
"No one has ever asked me that question before," noted Mbuvi, Reconstructing Judaism's vice president for academic affairs and the first Jew of Color to lead an American rabbinical school. 
For sure, Mbuvi has plenty to say about living at the intersection of rich cultures and histories. Yet it was the question itself — and the extraordinary circumstances in which it was asked — that elicited pure joy at the time and has remained with Mbuvi ever since. 
"I'm so used to experiencing everything as a minority in a predominantly white group that it never really occurred to me that this was structuring my experience in certain ways and leaving me to focus on certain things," she explained, referring to Jewish settings. 
The pilgrimage to the South for Jews of African descent who serve as leaders of the Reconstructionist movement was fully funded by Reconstructing Judaism. Participants were able to engage in healing work and visit sites imbued with trauma within a Jewish and Black context. 
It was, as participant Shahanna McKinney-Baldon explained, "a life-giving experience." 
"It was very deep. It was very nuanced, it was emotional, it was visceral, and there were parts of the experience that were just much harder to intellectualize," said Baldon, a member of Reconstructing Judaism's Board of Governors who co-chairs its Tikkun Olam Commission and belongs to Congregation Shaarei Shamayim in Madison, Wis. 
"I was able to be there fully as a Black person and fully as a Jew," added Baldon. "Usually, people are trying to make me choose or they're inviting me in or to lead as a Black person or as a Jew. But they mostly want me to be a Black person who's helping them. But this was an experience that was about being in community as my full self with others as our full selves, and not having to choose and not having to separate out. And that's a life-giving experience for me." 
'

To

m

ov

e

t

oward

s

t

eshuva'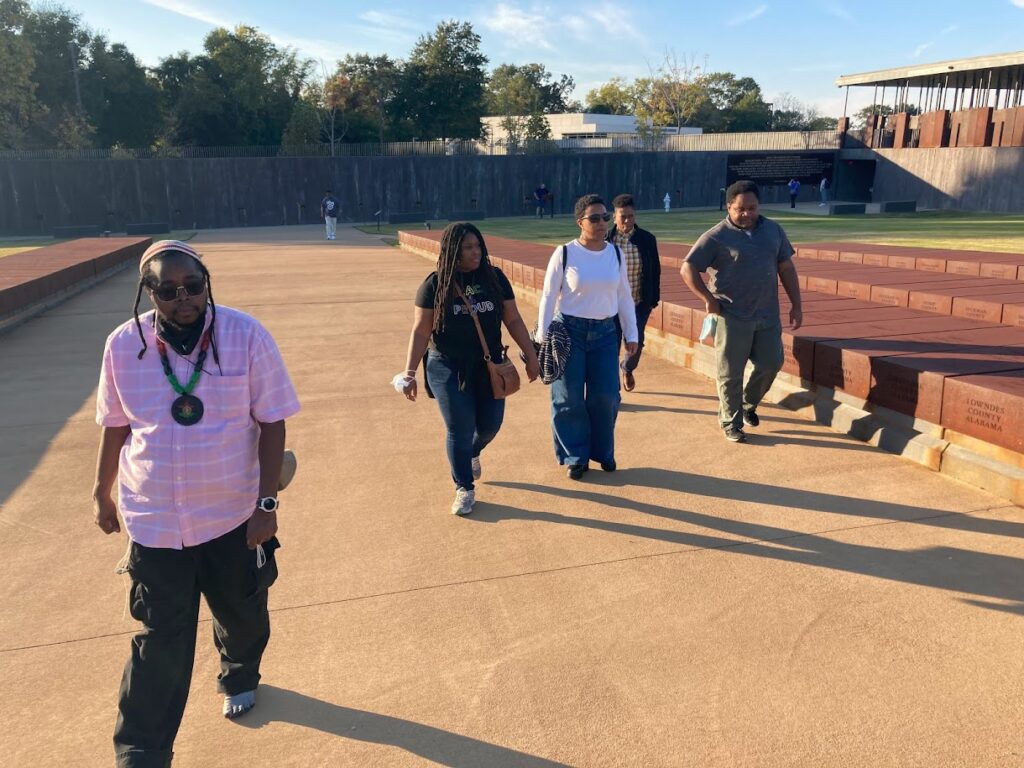 While the October pilgrimage was believed to be the first of its kind, the hope is that experiences geared for Jews of African Descent become commonplace in the Jewish world. Planners intentionally used the language of pilgrimage because it connotes travel for a sacred, transformative purpose as opposed to mere tourism. 
In his 1992 book "Sacred Places and the Pilgrimage of Life," Rabbi Lawrence Hoffman, a prominent Reform rabbi, wrote that to pilgrims, "the sacred place is alive, imbued with its own character, resonant with a message regarding the metaphysical nature of reality itself. For tourists, the world is made of 'sights'; for pilgrims, it consists of 'sites.' A 'site' retains its existence even if no one ever sees it, whereas a 'sight' exists only to be seen. Tourists 'capture sights' in living color. Pilgrims do see sacred sites, but they never master them." 
 The Jewish leaders of African descent traveled to the South in advance of "Reckoning Together: A Reconstructionist Pilgrimage Towards Racial Justice," a movement-wide pilgrimage slated for March 16-19. (There's still time to sign up.) The two pilgrimages will have similar itineraries, though the March trip adds a few more stops. At least seven of the participants on the Jews of African descent trip plan to return to help lead the March pilgrimage. 
Both experiences represent a chance to confront American history and to build a better tomorrow within a Jewish framework. 
"Wrestling with the legacy of this country's sin is required for us to move towards teshuva," said Koach Baruch Frazier, a Reconstructionist Rabbinical College student who serves as the student body representative to the Tikkun Olam Commission and helped plan the pilgrimage. "It allows us to collectively say that the sin occurred and can then move to looking at the ways we have been complicit in it here and now which, G-d willing, will make it easier for us to declare where we are willing to make changes toward more justice." 
A racial justice pilgrimage to the American South is seen as an important application of Reconstructing Judaism's stated strategic plan goal to "join and lead Jewish efforts to dismantle systemic racism, and to advance racial diversity, equity and inclusion within the Reconstructionist movement." 
Participants included members of Reconstructing Judaism's board of governors, the Tikkun Olam Commission, the Jews of Color and Allies Advisory Group, members of RRCs Black Student Union, one incoming congregation president and several senior Reconstructing Judaism staff members: Mbuvi, as well as Rabbi Sandra Lawson, inaugural director of racial diversity, equity and inclusion; and Rabbi Micah Weiss, assistant director for Thriving Communities and tikkun olam specialist at Reconstructing Judaism who served as staff support and bus driver. 
The initial trip for Jews of African descent came about at the suggestion of Black Jewish leaders in the movement. Reconstructing Judaism upholds the importance of Black Jewish affinity spaces so folks can attend to their own feelings and needs in moments that are particularly personal and all-too-familiar — whether that be the shared experience of living as a racial minority in a society shaped by systemic racism or the challenge of being in white-majority, "racial justice reckoning spaces" when they are often asked to bear witness to feelings of shame, guilt and overwhelm from their white colleagues. 
"I have seen this happen a lot with well–meaning white folks, not just white Jews," explained Marques Hollie, an RRC student who took part on the October pilgrimage. "They're overcome with sadness and regret and want to apologize, to atone on behalf of all white people. Your experience is your experience, and you need to sit with that. If this experience inspired you to do something in your everyday life that you were not doing before, then that's the point. Go do it." 
McKinney, the facilitator, tailored the experience for Jews of African descent.
"My hope in setting the stage in asking people what they love about being Black and Jewish was a way to counteract that notion of our experiences being difficult. But also to counteract the racism and antisemitism being put before us before anything else about us being human," said McKinney, who teaches at Texas Christian University and described himself as Queer, Black and Jewish. "The notion of teshuvah, 'return,' is one we know well and is one that we are commanded to do personally. It was important for us to return to this location in the South as Jews of African heritage, because many of us have Southern roots.," 
His approach was shaped by his understanding of trauma theory: in order to heal, it''s key to visit sites of pain and replace old memories with new ones. The larger purpose of both missions, he said, is to explore what it means to "deconstruct racism in the reconstruction of Judaism."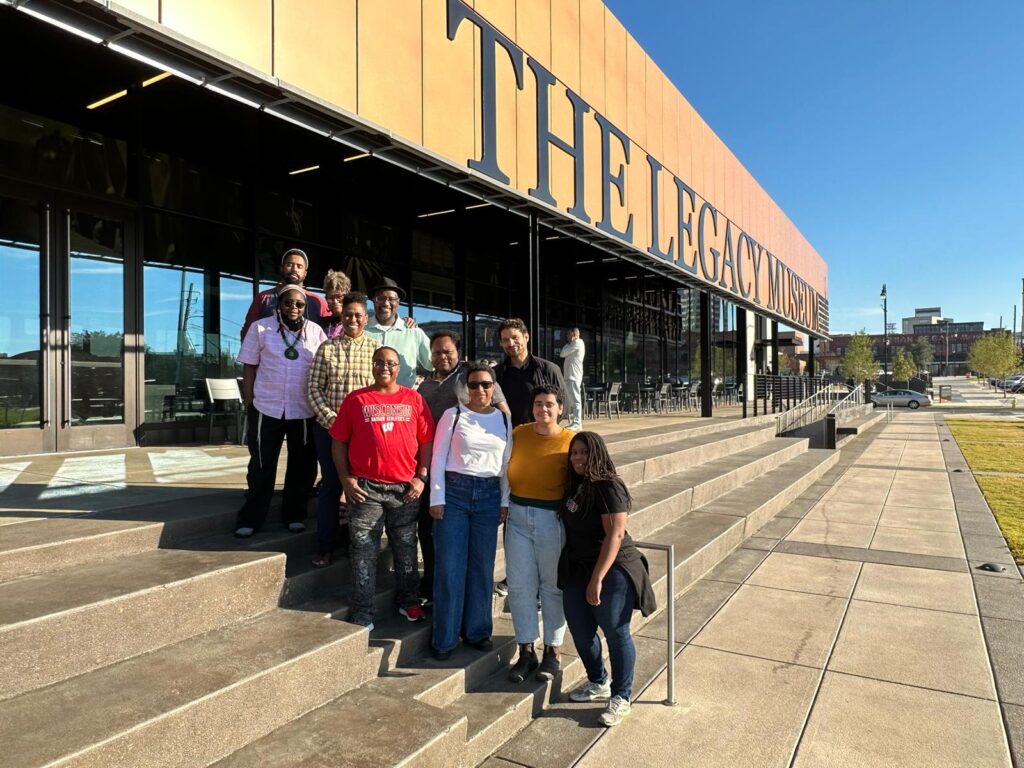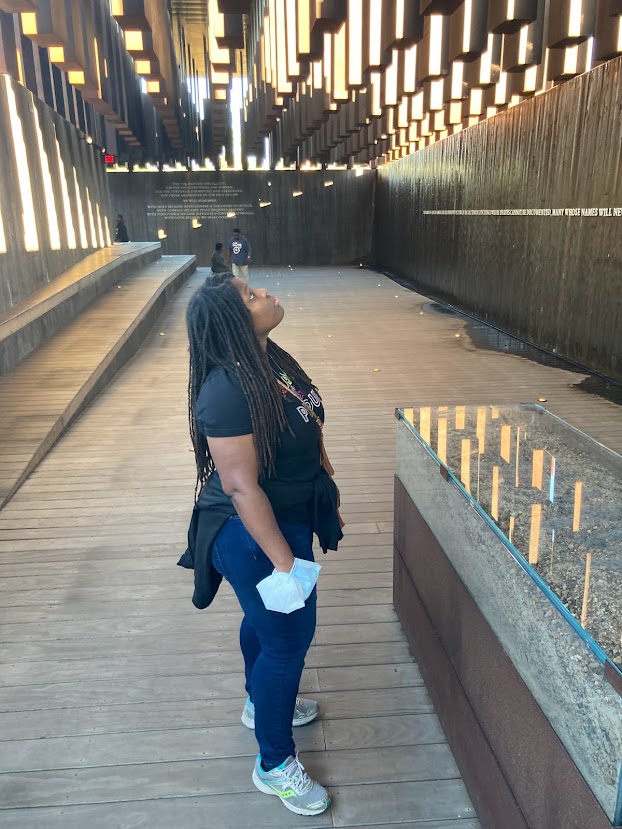 Reconstructing Judaism has hoped to send a group to the National Memorial for Peace and Justice since the new American pilgrimage site opened in 2018. The disruption of the Covid-19 pandemic is a big reason why it's taken until now. 
As the memorial's website describes, it is "dedicated to the legacy of enslaved Black people, people terrorized by lynching, African Americans humiliated by racial segregation and Jim Crow, and people of color burdened with contemporary presumptions of guilt and police violence." The group made a point of reciting the Mourner's Kaddish there, and, following the Jewish tradition of visiting gravesites, placed stones on replica coffins.  
In his recent cover story for The Atlantic, Clint Smith, author of the bestselling "How the Word Is Passed: A Reckoning with the History of Slavery Across America," wrote that the memorial, built on a site in Montgomery, Ala., where enslaved Black people were once held in bondage and sold as property "has a similar physical and emotional texture to the Memorial to the Murdered Jews of Europe" in Berlin. 
The neighboring Legacy Museum: from Enslavement to Mass Incarceration opened last year and, as its website states, "provides a comprehensive history of the United States with a focus on the legacy of slavery." 
Hollie, a Black, Queer Reconstructionist Rabbinical College student who is an accomplished performer, singer and composer, was among the group of 12 that made the trek. Hollie (who uses both he and they pronouns) had never been to Alabama and experienced a visceral physical reaction when crossing state lines. (Other trip participants had spent much of their lives in the South and felt far more comfortable.) 
At first, he found the Legacy Museum unsettling, as "a living, breathing entity telling the story of Black folks in the United States." In addition to the subject matter, conveyed evocatively through interactive exhibits, the galleries themselves offered a dearth of light. 
Then Hollie stepped into a room bathed in golden light. Known as the Reflection Space, it honored hundreds of people, both famous and unsung, throughout American history who have worked for justice and challenged racism. Hollie's musical ear couldn't help but notice the track echoing throughout the room: Stevie Wonder's "They Won't Go When I Go."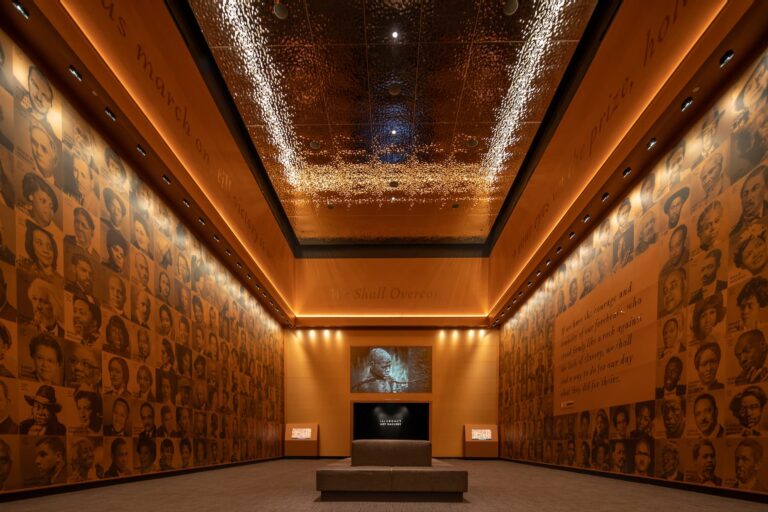 Hollie couldn't help but think that they were in the presence of tzadakim ("righteous people"), experiencing a transcendent, visceral connection with Black ancestors who stood up to injustice. It was a feeling they'd had only once before: the first time, as an adult, they had recited the Shema, experiencing an almost cosmic bond with the Jewish people across space and time. 
"It was such a stark contrast with the rest of the museum because the museum itself is actually pretty dark, like it's a very dark color palette. It's not particularly brightly lit, but then you walk into this huge open room just like gold, and on the walls are just portraits of different heroes of Black history," said Hollie. "You go through this journey of a lot of pain and a lot of suffering, and to then sort of bask in the glow of what people are capable of." 
Of course, Hollie and the dozen other people on the trip didn't all experience the full trip or the moments in the Reflection Space in the same way. Yet, in ways difficult to express, participants noted that something special happens when Black Jews get together, something healing. And sometimes, there's mutual understanding without any words being exchanged at all.  
The museum and memorial left participants grappling with hard questions, though they were able to do so in a new community that many hope lasts far beyond the short duration of the pilgrimage. 
"How do we live with this history, knowing that this is the history that has shaped the world that we live in and shaped it?" posed Mbuvi. "How do you find the possibility for joy? How do you find the strength for change? How do you find your own the fullness of your own humanity and live in accordance with that?" 
Baldon explained that she's still processing what the trip means to her and for Reconstructing Judaism. 
"Are there elements of the experience and of the work that I can incorporate into my life as a Reconstructionist Jew, as a human being, as a Wisconsinite, as myself? How can I incorporate elements of this experience into my life in a cyclical way?" pondered Baldon. 
'Let the
w
ave
w
ash
o
ver
m
e'
Among the pilgrimages highlights was the chance to tour key civil-rights sites in Selma, Ala., with Joanne Bland, a veteran civil-rights activist who took part in what became known as "Bloody Sunday" and was arrested numerous times as a child. 
"She was taking us under her wing and telling us stories that we hadn't been told — stories that had been hidden or obscured. But she did it in such a way that was loving and rooted in care," said Hollie. "She wanted us to understand the gravity of all this and not be destroyed this."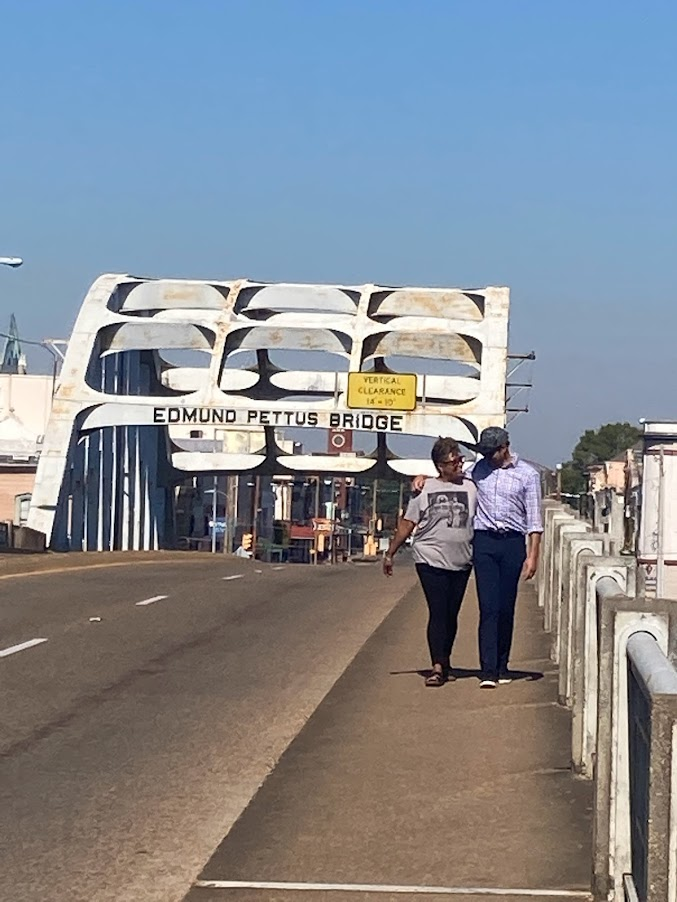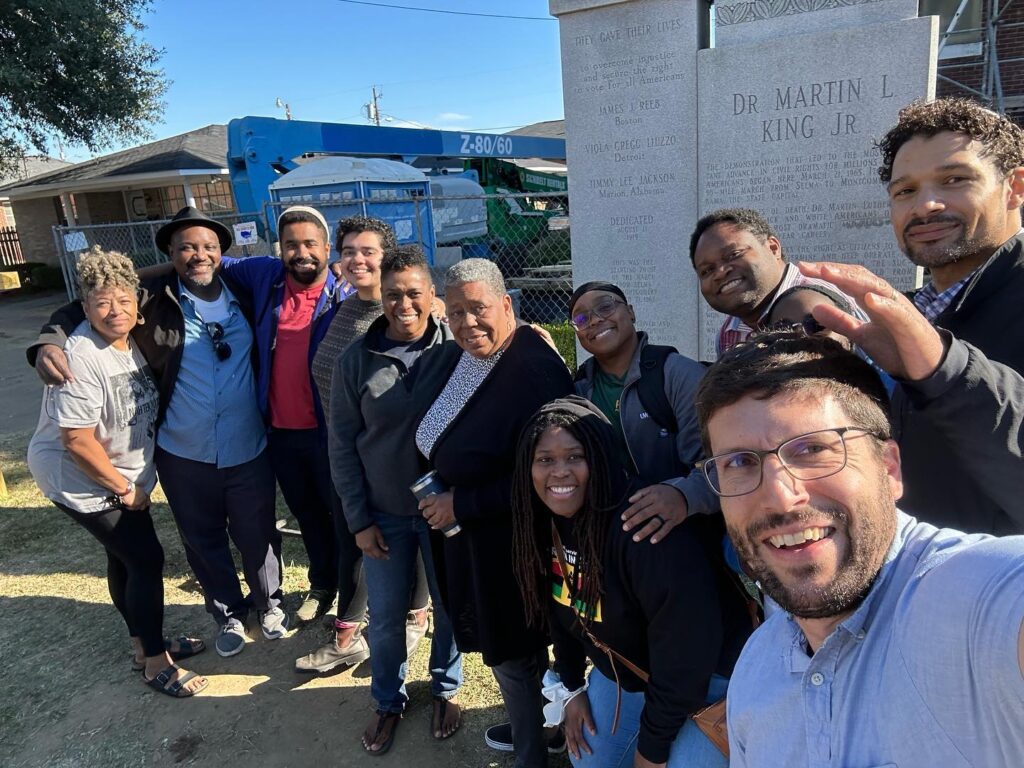 Part of what Bland shared was her experience on Bloody Sunday on March 7, 1965, when John Lewis led more than 600 marchers, including Bland, across the Edmund Pettus Bridge. The demonstrators were met with brutal force by state troopers, with the media capturing blood and violence. The event and its coverage in the media are credited with galvanizing support for the 1965 Voting Rights Act. The bridge has become an iconic site of the civil-rights movement, crossing an important rite of passage, though it still carries the name of a Confederate politician and supporter of slavery. 
As he crossed, Hollie thought not of the events of the day, but of the beauty of the river and riverbank, of all the horrors that the landscape has witnessed, all the blood that has soaked the Earth. 
"I was looking at the water and looking at the grasses and looking at the trees, like it was all witnessing us walk across the bridge," he recalled. 
At that moment, a song played in Hollie's mind: "Tomorrow" by the artist known as Miner. 
"Let the wave wash over me (there will be better days)  
Let the wave wash over me (there will be better days)  
I am already under (there will be better days)." 
"In this moment, I am not thinking about what happened here as I am the movement of water," noted Hollie, who expects the experience to be reflected in his art and compositions. "How do we continue to ripple, to move and make change, through the steps we are taking now?"
Still looking to experience more of the trip? Check out this additional, narrated slideshow prepared by Rabbi Micah Wess. 
Special thanks to an anonymous donor and the Tikkun Olam Commission for helping to make this pilgrimage possible, and the Schocken Foundation and Jews of Color Initiative for sustaining support of Reconstructing Judaism's racial diversity, justice and inclusion efforts. 
Consider supporting our vital efforts to join and lead Jewish efforts to dismantle systemic racism, and to advance racial diversity, equity and inclusion within the Reconstructionist movement. 
Learn how two Reconstructionist artists created new pieces as a response to the Reconstructionist Day of Learning on Reparations. 
Familiarize yourself with Reconstructing Judaism's racial justice commitments.