The Reconstructionist movement is being well represented at the 2022 Annual Meeting of the Society of Jewish Ethics, taking place Jan. 6-9 over Zoom. In fact, in terms of the number of presenters —at least three — the movement will have a greater presence at this year's virtual gathering than at any time since the first conference was held in 2003. 
The Society for Jewish Ethics is the primary academic organization dedicated to the "promotion of scholarly work in the field of Jewish ethics, including the relation of Jewish ethics to other traditions of ethics and to social, economic, political and cultural problems." As in the past, the annual meeting is being held concurrently with conferences run by the Society for Christian Ethics and the Society for the Study of Muslim Ethics, enabling participants in each event to attend programs at the others. 
"What is so exciting about the conference program this year is that it reflects the degree to which Reconstructionist rabbis and leaders are contributing to the advancement of Jewish ethical thought and scholarship at the highest levels, and this despite the fact that we do not have an academic program that trains doctoral candidates," said Rabbi Mira Wasserman, Ph.D., who directs the Center for Jewish Ethics and is an assistant professor of rabbinic literature at the Reconstructionist Rabbinical College. 
RRC's Center for Jewish Ethics has been an institutional sponsor of the Society of Jewish Ethics since the conferences' inception. Rabbi David Teutsch, Ph.D., a former president of RRC, was an early president of the Society for Jewish Ethics.  
Armin Langer

Armin Langer, an RRC student, scholar, author and interfaith activist, is delivering a paper titled "Abram went down to Egypt to live there, for the famine was severe – Traditional and contemporary Jewish perspectives on climate migration" as part of a session called Paradigms for Ethical Thinking in the Contemporary Era. Langer will also discuss other textual examples of climate-induced famine and migration, including in the Book of Ruth, when Naomi is forced to resettle in Moab because of a drought.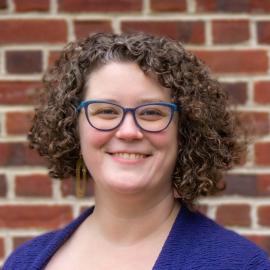 Rabbi Miriam Geronimus

Two Reconstructionists are presenting as part of a panel called "Family Matters: Rethinking Assumptions." Minna Scherlinder Morse, an editor and project manager, is set to deliver "Kavod, Kinship, Complexity and Care: Jewish Foundations for a More Ethical Approach to Adoption. Morse, a longtime member of Adat Shalom in Bethesda, Md., has written about these issues in Evolve: Groundbreaking Jewish Conversations and on a recent episode of the platform's podcast. Rabbi Miriam Geronimus, RRC '21, will give a talk titled "Queering Jewish Parenting: Expanding How We Understand What it Means to Be a Parent." Geronimus, the founder of the Cleveland Jewish Collective, based her paper on research she did for a senior year RRC ethics course. 
"Jewish ethics is an academic field that has broad relevance, offering guidance to all who seek to live life in accordance with Jewish values, and Reconstructionists are at the forefront, bringing Jewish values to bear on urgent, contemporary issues. At the conference, Reconstructionist thinkers will address climate migration, racial justice, queer family ethics, and critical adoption studies," added Wasserman. "These are issues that matter in our lives and in our world. I'm particularly moved by how  Reconstructionists are helping to shape the field of Jewish ethics through research, study, activism, and intellectual exchange." 
Registration fees are $75 for those employed full-time, and free for everyone else, including students and retirees. The plenary on Jan. 9 at 4 p.m. EST is open to all. More information can be found here: https://www.societyofjewishethics.org/event-details/