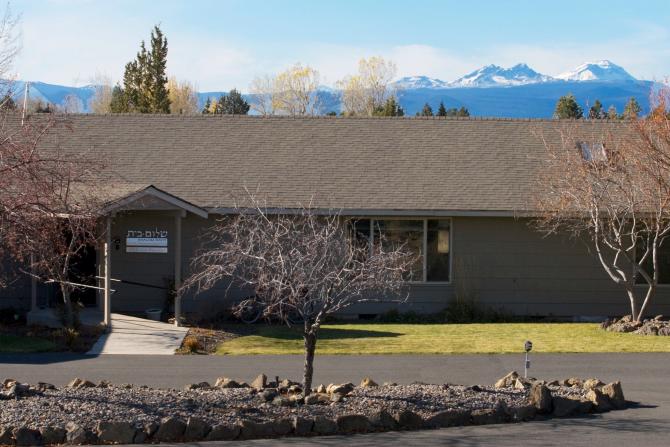 "Oh my God, we don't have to do this by ourselves anymore."
That's what Judith Ann Arbetter thought when her community, Congregation Shalom Bayit in Bend, Ore., choose to affiliate with Reconstructing Judaism. Arbetter, a Shalom Bayit board member, explained that after several decades of not belonging to a movement, becoming part of the Reconstructionist movement was "almost like giving a thirsty person a drink of water."
Shalom Bayit — its official name is the Jewish Community of Central Oregon — is the most recent North American community to affiliate with Reconstructing Judaism. In the last year, two overseas communities have joined: Jüdische Gemeinde Michelsberg (Jewish Community of Michelsberg) in Germany and Yad Mordechai Congregation in Moscow. That brings the global total to just shy of 100 Reconstructing Judaism affiliates. It also makes five Reconstructionist communities in Oregon, with a total of seven in the Pacific Northwest, demonstrating vibrancy and growth in the region.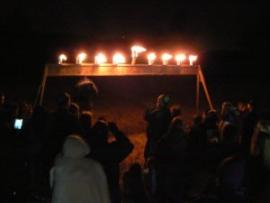 Shalom Bayit's story is one of an eclectic, big-tent congregation with a spiritual and informal approach. Members have built a meaningful Jewish community in a city with virtually no history of Jewish life and where nearly everyone is a transplant.
"The people are down to earth and have solid values regarding their personal and communal lives. They have become my core friendships," said Arbetter, who grew up in Chicago and a dozen years ago relocated to Bend from rural Colorado. "It takes an effort to be Jewish in an area that doesn't have a lot of Jews. I grew up in Chicago. In a small town, it's a different kind of commitment you see in a way that's admirable."
Shalom Bayit's story is about the power and possibilities of a community being connected to an international movement that shares its commitment to pluralism and creative religious expression.
"We're thrilled to welcome Shalom Bayit to our community of communities," said Rabbi Maurice Harris, associate director of Reconstructing Judaism's Thriving Communities department, which serves Reconstructionist affiliates and facilitates gatherings and learning opportunities. As it happens, Harris is no stranger to the Beaver State: He is the former associate rabbi of Temple Beth Israel in Eugene, Ore.
"Shalom Bayit has an exciting future," continued Harris, who visited the congregation last spring, a few months after Rabbi Deborah Waxman, Ph.D., president of Reconstructing Judaism, met with members. "It is well positioned in a city that is quickly growing. In the coming decades, it can become a larger, even more vibrant center of Reconstructionist Judaism."
Bend, a former mill town of some 90,000 people, sits just east of the Cascade Mountains. Most of the state's population lives west of the mountains, concentrated in cities such as Portland, Eugene and Salem. Many Oregonians have traditionally looked upon the state's eastern two-thirds as a kind of frontier territory, said Dr. Ronald Schutz, president of Shalom Bayit.
Nevertheless, Bend is the state's fastest-growing city: As recently as the 1970s, only 10,000 people called the city home. Increasingly, the area's natural beauty and temperate mountain climate — unlike the rain-soaked Willamette Valley, Bend gets an abundance of sunshine — have attracted retirees as well as young families. Bend has also developed a burgeoning tourist infrastructure built around outdoor activities, like snowshoeing in the winter and horseback-riding in the summer.
"Bend has been discovered," said Schutz.
'We needed an inclusive-enough community'
When the congregation first organized itself in 1993, it took the name Jewish Community of Central Oregon (JCCO) partly because it wanted to be open to Jews of all backgrounds and partly because it was the only Jewish game in town. For years, the congregation flourished, growing to roughly 85 families and developing a culture of pluralism. Among its most well-attended programs was a weekly Torah study group. In 2001, the congregation was able to purchase its own facility, making it Oregon's sole dedicated synagogue building east of the Cascade Mountains.
Things grew more complicated when Chabad of Central Oregon set up shop in Bend. Then, in 2008, a split within the JCCO led to the creation of a Reform congregation, Temple Beth Tikvah Bend. With three synagogues in the area, the all-encompassing JCCO name no longer made sense, so the congregation adopted the name Shalom Bayit.
According to Alice Huskey, the congregation's vice president, who has been a member since 1994, Shalom Bayit's laudable policy to remain unaffiliated came from a desire to maintain its own identity while being open to Jews of all backgrounds. Yet, as the other synagogues in Bend were identified with well-known streams of Judaism — Chabad and Reform — many people didn't know what to make of Shalom Bayit ("House of Peace").
"People told us, 'We really don't understand what you guys do,' " said Huskey.
And, as it confronted challenges, leadership increasingly felt the lack of support from a central movement or congregational network.
Schutz explained that the congregation "formed a committee of willing and able people who got behind the concept of affiliating with a movement."
In a democratic and participatory manner that was perhaps indicative of its ultimate choice, the congregation investigated various liberal Jewish movements, examining liturgy, positions and the feel of the particular religious stream.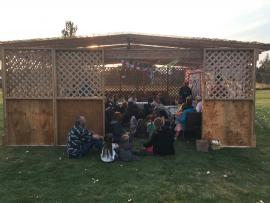 "We thought that it was time for us to affiliate with a brand. With Reconstructing Judaism, we thought, 'Wow, there is an organization with a sukkah that's big enough for us,' " said Huskey. "We needed an inclusive-enough community because we are out of the mainstream."
Since affiliating, Schutz has embraced Reconstructing Judaism's regional President's Forum, welcoming the chance to share ideas with his counterparts at Reconstructionist congregations in the Pacific Northwest. Schutz happens to be a pilot who owns his own plane, so he often flies to meetings in other parts of Oregon and Washington that would normally be an all-day drive. He noted that those connections have already proven invaluable.
"We've talked a lot about building security, and it was really helpful to get additional perspectives on that," said Schutz. "We've also talked a lot about dues and how different synagogues can approach dues. This is a level of connection that we simply didn't have before."
Over the past year, Shalom Bayit's leadership has taken ample advantage of Thriving Communities' consulting services. Reconstructing Judaism staff has helped guide congregational leadership through a rabbinic transition period: Longtime Rabbi Jay Shupack recently retired. Rabbi Yossi Feintuch began his tenure at the start of 2020.
"Our entire community could see that you folks wanted to help us become part of the movement," said Arbetter. "Reconstructing Judaism has offered us an unbelievable amount of support."