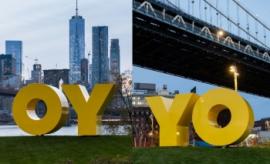 A sculpture installed this week near The Brooklyn Bridge illustrates the simple difference between Oy and Yo. A few steps in a new direction can make all the difference.
Jewish leaders are taking bold steps in new directions by combining the insights of innovation and business with the field of education. One such entrepreneur finding solutions to persistent challenges is Lynn Lancaster, co-founder of Sababa Surf Camp.
Lynn's oy was teens. While many worry that teens don't participate in any programs after b'nei mitzvah, Lynn had the opposite concern: she witnessed teens participating in too many programs, struggling to live in a culture that has lionized college resume building.
Lightbulb moments with co-founder Danny Mishkin shaped the exciting idea of engaging teens in mind, body, and spirit through a Jewish surf camp. To make their passion project real, however, Lynn had to step out of her Jewish educator comfort zone.
"I know how to design good education, but that wasn't going to be enough. We were selling something that people didn't even know they needed." Lynn laughed, "Keep in mind: Jews in New York don't surf."
A small business incubator, led by The Jewish Education Project, enabled Lynn to step into the role of entrepreneur. She crafted a logo, created a website, and used social media and marketing strategies to launch Sababa.
Lynn had to answer new questions:
1. Who is your consumer and who is your customer?
2. What message speaks to your consumer? What message speaks to your customer?
"I learned that parents are our customers. They pay. They make the ultimate decision. Teens are the consumers. Parents and teens had very different questions and needs. We had to sell to both of them."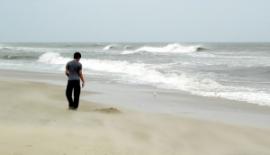 "Initially we thought teens would love the coolness of surfing," she told me. And they did. But parents had other concerns. "Surfing was unknown and frightening. It was the fun-relax aspect that spoke to [the teens], but their parents, our customers, needed a message of safety."
The teens had to want the experience. In turn, they had to influence the parents, who were the ultimate customers.
To share the message, Lynn literally went knocking on doors. She and Danny met families one-on-one. They visited homes during high school finals week bringing snacks for the teens.
"Our message to teens," says Lynn, "is embrace your imperfections. Perfectionism is a recipe for failure."
They were surprised at how much the message resonated. But as they learned, it's not enough simply to have a good message. You have to move out of your comfort zone and embrace new roles.
"We had to get out there and do sales. I used to think 'I'm an educator, I don't do sales!'" said Lynn. "But I do now."
The new entrepreneurship paid off. "I have never seen teens experience this kind of authentic unencumbered joy and openness," Lynn said.
Their success continues. Yo, Sababa Surf's alternative spring break in Puerto Rico, is now sold out. 
View video of Sababa Surf Camp
Sababa Surf Camp has resulted from Lynn and Danny's partnership with Forest Hills Jewish Center; Temple Israel of Great Neck; Beit Teshuva in Los Angeles  and Skudin Surf; and funding and support from The Jewish Education Project; The Jim Joseph Foundation and UJA Federation of New York.