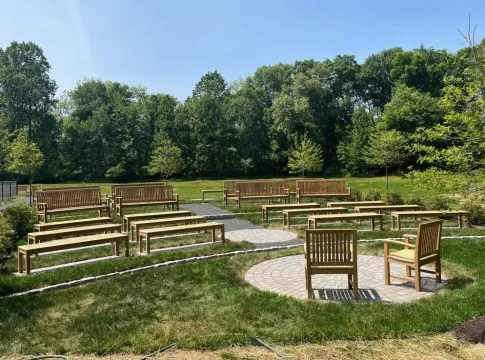 Congregation Kol Emet's new outdoor contemplative space is not a big sanctuary with seating for hundreds. It's a small patch of land with benches and enough seating for perhaps 100 people.
But leaders at this Reconstructionist synagogue in Yardley want to use the space for the biggest events in Jewish life, from High Holiday services to bar and bat mitzvahs. They also want to use it for regular activities on the Jewish calendar, like Shabbat services.
The outdoor sanctuary is the primary piece of a $750,000 capital campaign to upgrade the synagogue. Post-COVID, this congregation of about 180 households is leaning into the outdoors, to the smell of fresh air and to intimacy.
The synagogue broke ground on its outdoor sanctuary on April 2. It is dedicating the space on June 4 with a ceremony, a barbecue and an ice cream truck. "I can't wait until June 5 so we can use it," said Sue Weiner, the religious school and camp director at Kol Emet.
The congregation's rabbi, Anna Boswell-Levy, is also counting down the days.
"I really am excited to lead services in that space and see how it feels to be out there, be singing. Acoustically, it will be different," she said. "The fresh air on people's skin. It'll change the whole dynamic. Kids could run around and be loud kids."
.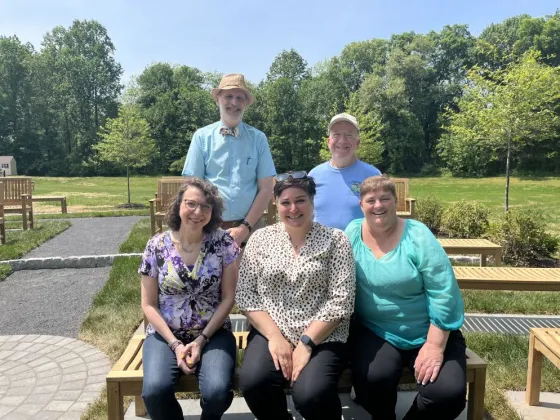 Boswell-Levy explained that Kol Emet has always been a community open to experimentation. And during COVID, it had to experiment with outdoor services and activities. Two years ago, the congregation gathered for High Holiday services outdoors. On another occasion, members watched an Eagles game in the sukkah.
As synagogue member Geoff Goll, whose engineering firm, Princeton Hydro, designed the space, explained last fall, congregants wanted to find a way to use the property better. Kol Emet's patio could only fit about 30 people. So, Goll's blueprint for the contemplative space allowed for more than twice that number. The outdoor sanctuary has enough seating, no walls and wheelchair accessibility.
"There are benches. There's lighting. There's electricity. There's Wi-Fi," the rabbi said. "We've made it easier to be outside. It allows us to be more unbounded."
"It says to our congregation that we are a community that is open," added Howard Greenberg, the shul's incoming president. "And we want people to have options. People could have a bar mitzvah out here. We could put a table on the side so, if it's small enough, they could eat."
"I think it signifies how healthy our congregation is," said Alexis Miller, the synagogue's executive director.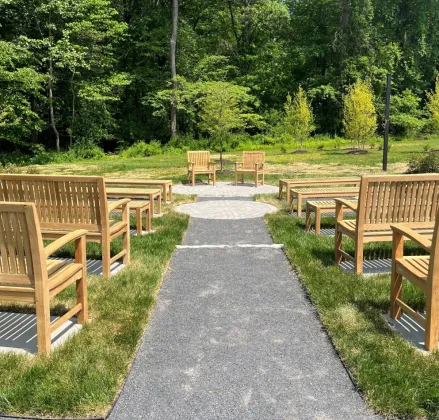 Ken Goldstein, Kol Emet's treasurer and a member since the '90s, said that an outdoor sanctuary has been an idea among the leadership for two decades. But a donation from the Schatz family, a longtime member household, made it financially possible, and the pandemic created a desire among the congregants. As Goldstein explained, "People want to be outside."
"I don't think we'll have to twist anybody's arm to have an event out here," he added. "It'll be the opposite. If there's any way they can do it outdoors, they will do it outdoors."
According to Weiner, Kol Emet's summer camp will use the space as its amphitheater and use it every morning and afternoon as its meeting place to begin and end the day. Liz Ravitch, the synagogue's preschool director, said that the school has Shabbat every Friday, and once the space is dedicated, she wants to move Shabbat outside so students can experience nature. Boswell-Levy mentioned that families are already considering the outdoor sanctuary as an option for bar and bat mitzvahs.
Greenberg hopes the space can attract the unaffiliated masses of Jews in the Yardley area. Boswell-Levy also thinks that it may help with expenses if it can be rented. But even if it doesn't do either of those things, that's OK.
"The days of the big synagogues with thousands of members, it would be lovely financially if that could happen, but I think those days are over," Ravitch said. "And I think the more intimate kind of gatherings are what people are looking for. And you could still have 100 people out here. It's not like it's limited to 10 people. But I think those are the kinds of gatherings that people are looking for nowadays."