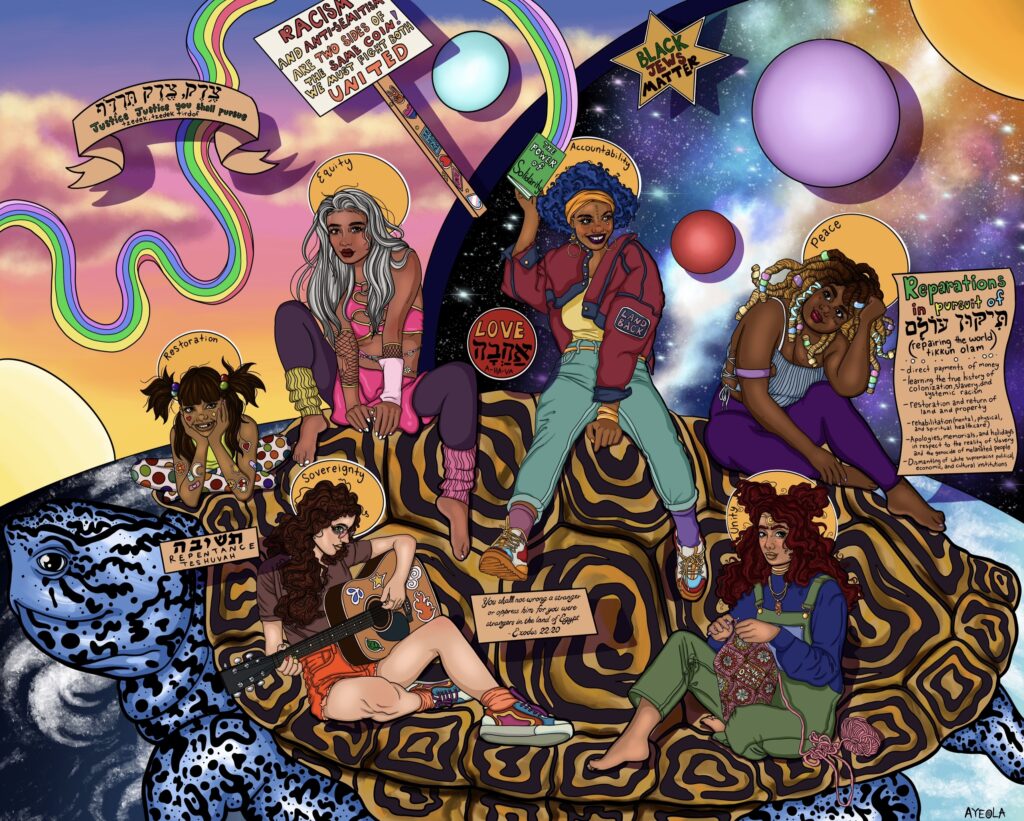 Art has the power to truly change people. And people have the power to change the world.
With that theory in mind, Reconstructioning Judaism commissioned two Black Jewish artists affiliated with the movement — Ayeola Omolara Kaplan and Marjorie Attingol Salvodon — to respond to last year's Movement Wide Day of Learning on Reparations. Those works were installed on the walls of the Reconstructing Rabbinical College's suburban Philadelphia building during a Sept. 7 program and made a part of its permanent collection.
"As Reconstructionists, we celebrate art as a beautiful, genuine part of the Jewish civilization that is one of the many ways that our people and our fellow travelers express ourselves Jewishly," said Rabbi Micah Weiss, Reconstructing Judaism's assistant director of Thriving Communities and Tikkun Olam Specialist, in opening the program.
"By bringing new art into our space — art that centers the creative expression of Black Jews who have not had art on our walls before — we are trying to change each of us in our way that we experience this space and the way we experience Jewish community," he said. "This is part of a collective effort to become an anti-racist organization, and change one another and the world together.
Salvodon's "Hineni | הנני: Belonging, Memory, Action" is inspired by a pivotal moment in the struggle for Haitian independence and is a collage made of paper, thread, cotton twine rope, foam and glue. Kaplan's "Reparations in Pursuit of Repairing the world is a digital painting that she said was in part a "dream about the euphoria that could be experienced through unity amongst the global community of marginalized people." (Read the artists' statements and order prints here.) 
During the hybrid program, the two artists met via Zoom with RRC students and faculty explaining their creative process and intentions behind their work. RRC students Molly Schulman and Léah Miller moderated the conversation. 
Both Salvodon and Kaplan spoke about being inspired to pursue art through social justice, and using it to both tend to and explore their roots. They also hoped that their work will help shape how people think about complicated issues such as identity, race, roots and justice.
"I am so lucky to be part of a Reconstructionist community, where I find so many of the values of the people that raised me," said Salvodon, a member of Congregation Dorshei Tzedek in Newton, Mass., and associate professor of history, language and global culture at Suffolk University in Boston. Salvodon said she identifies as Black-queer-Jewish-Haitian American woman. She cited a Haitian proverb that translates to "every person is a human being." 
"That, to me, connects to the idea of betzelem elohim, seeing the holy in every single person," added Salvodon. "Part of the reason it is called Hineni is because it is calling for a self-reflective on the part of each person." 
Kaplan, a recent graduate of the New College of Florida, is a Black-Queer-Jewish artist who is a member of Congregation Bet Haverim in Atlanta. She has received commissions from a number of Jewish organizations to create art with a social justice purpose and was recently profiled in The Forward. (This March, she will be teaching a Ritualwell Immersion called Jewish Art as Self-Defense.) She spoke about the struggle of creating art imbued with meaning and purpose. 
 "Choosing to do art is difficult in a society where it is not a huge value," she said. "I talk about art as a spiritual tool. I ask myself 'what is my prayer,' and I create the artwork that speaks to that." 
Reconstructing Judaism's strategic plan calls for the organization, which operates the college, to "join and lead Jewish efforts to dismantle systemic racism and to advance racial diversity, equity and inclusion within the Reconstructionist movement." Additionally, the Tikkun Olam Commission — a joint body of Reconstructing Judaism and the Reconstructionist Rabbinical Association — has for more than a year focused on reparations, drafting a resolution "advocating for institutional, local and federal legislation and policies that specifically address the need for reparations. 
Weiss noted that becoming an anti-racist organization "is a big project of culture change."