At the bucolic Camp Solomon Schechter outside Olympia, Wash., roughly 120 people, both adults and children, experienced Jewish community at its most inspiring. By joining together in a current climate where individuals have fallen away from communal activities and commitments—described by Robert D. Putnam in the sociological study, Bowling Alone—participants took a step towards a more cohesive Reconstructionist community in a region where congregations are separated by great distances. To top it off, they celebrated a memorable and very meaningful Shabbat.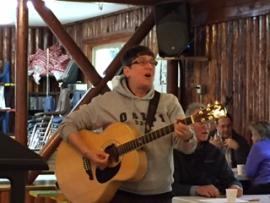 The Pacific Northwest Shabbaton, held in May, featured dynamic workshops, festive meals, spirited prayer, walks by the lake, and Jewish learning led by RRC faculty members Elsie Stern, Ph.D., and Joel Hecker, Ph.D. Beth Hamon, a member of Havurah Shalom in Portland, Ore., led the group in song. "Mi-yad l'yad," which translates literally as "from hand to hand," functioned as the retreat's theme.
Discussions focused on contemporary questions such as "who can teach, how do we learn, what is received and why?" Five graduates of the Reconstructionist Rabbinical College lead learning sessions and group rituals: David Basior, '15; Seth Goldstein, '03; Maurice Harris, '03; Yohanna Kinberg, '03; and Sarah Newmark '10.
"It is my core belief that community on all levels is so important, and the Shabbaton was a manifestation of that," said Sima Kahn, a member of the Shabbaton organizing committee and the immediate past president of Kadima Reconstructionist Community in Seattle, Wash. "History has shown over and over again that our communities are vitally important, whether they are global or local."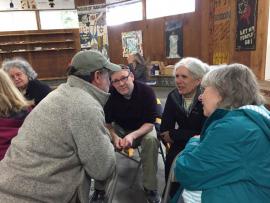 Staff members of the Jewish Reconstructionist Communities and volunteers from five Reconstructionist congregations in Oregon and Washington spent more than two years planning the weekend. More than a decade had passed since the last time a regional Shabbaton had been held in the Pacific Northwest. A number of rabbis and lay leaders had said it was vitally important to hold another regional gathering, and the Affiliate Support Department of Jewish Reconstructionist Communities made it a high priority to deliver.
"Events like this reinforce that our communities are part of a greater movement – and the movement has a lot to offer," explained Jackie Land, associate director of Affiliate Support, who oversaw the planning and execution of the Shabbaton. "The networking and learning that took place created many promising opportunities."
Making the case for the essential nature of religious communities and bringing Reconstructionist Jews together are primary missions of Jewish Reconstructionist Communities' Affiliate Support team. The group works with congregations to explore the pressing questions of Jewish life in a variety of ways, including convening online and in-person discussions, such as the new Reconstructionist Learning Networks (created by Cyd Weissman, RRC's assistant vice president for innovation and impact); curating and sharing resources; providing direct consultation; organizing forums for congregational presidents; and coordinating the biannual Plenum—an important advisory body for the movement—for representatives of all our congregations. The team is hard at work planning the Reconstructionist Convention 2018, slated for November 2018.
Rabbi Maurice Harris, who participated in the Shabbaton and is also an associate director of Affiliate Support, added, "Reconstructionist communities interested in developing similar regional gatherings can learn a lot from what the Pacific Northwest accomplished. We're happy to help connect congregational leaders interested in learning more with some of the people who made this Shabbaton so successful."
Unlike Reconstructionist communities in some parts of the country, like metro New York or the Chesapeake region, communities in the Pacific Northwest are a long haul from one another. For example, Temple Beth Israel in Eugene, Ore. is 290 miles from Kadima in Seattle, Wash. Such distances limit the opportunities for Reconstructionist communities in the Northwest to interact cohesively and regularly at a regional level.
According to Sam Schrager, a member of Temple Beth Hatfiloh in Olympia, Wash. and chair of the Shabbaton organizing committee, many Reconstructionists in the area feel connected to their particular congregation, but not to the larger Reconstructionist movement or even to local Jewish communities.
Laura Schrager, who is married to Sam and serves as president of Temple Beth Hatfiloh, said that "by having a Shabbaton, we saw it as a chance to really build community across the region."
In addition to connecting Reconstructionists to one another, the program exposed participants to RRC's intellectual depth and richness. Stern, vice president for academic affairs, taught about how ideas of God, Israel and Torah have evolved. Hecker, a professor of Jewish mysticism, taught about medieval Jewish philosophy and Kabbalah. Several participants noted that it was a rare chance to directly encounter faculty from the College, which is located in Pennsylvania.
"Joel Hecker was profound and Elsie Stern was absolutely dynamic," said Andy Gordon, a member of Havurah Shalom who has long championed the Shabbaton.
While a Shabbaton like this won't likely happen every year, participants said the gathering got people talking about how Northwest congregations can work together more closely. While nothing has yet been formalized, ideas have been floated, including forming a regional men's group with periodic events, bringing in another speaker from the College, and organizing a teen Shabbaton.
Rabbi David Basior of Kadima said the Shabbaton jumpstarted conversations and built momentum; in the coming months more concrete plans should be formed.
"Being a Northwest Reconstructionist is a unique identity," he noted. "People out here will drive great distances to get together. You just have to give them good reason [to do so]."